Shopping for the perfect ring? There are unique designer engagement rings for every type of woman, so keep looking until you find one that really fits!
Designer engagement rings for your style
Choosing the best engagement ring can be a daunting task. You deserve a ring that fits more than just your finger. Your ring should fit your personality, reflect your style and catch your eye. This ring will be within an arms length for the rest of your life, should you choose to wear it everyday. With such a variety of designer engagement rings to consider, you should start by narrowing things down.
Are you more into the trendy and fashion forward? Or do you prefer traditional styles? How do you feel about colorful engagement rings instead of the typical white gold with white diamonds combo? If you're a not-so-typical bride, you may have to look even further for the perfect ring. There is some pressure on the groom to choose an appropriate ring. It will help if you know ahead of time what you really want, so he can make the big purchase with confidence!
Trendy and Fashion-Forward Designer Engagement Rings
If you are into fashion and trends, you might gravitate towards the designer engagement rings that are trending this year. While fine jewelry such as this will not go out of style, it can be a fun reminder of the time and taste of your big year. Your ring will outshine the rest and receive enthusiastic compliments from your most stylish friends. It will also transport you back to present day when you admire your ring in future years.
The top trends in engagement rings right now are the halo setting that is perfectly round, mixed metals particularly with rose gold, and the added twist of colorful gemstones. Many brides-to-be are falling in love with yellow diamond engagement rings. You'll also see decorated bands, like scrollwork or diamond details.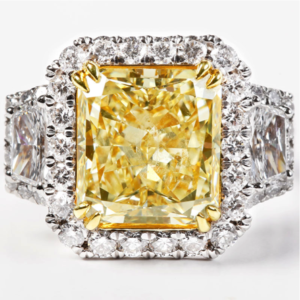 Cushion Cut Yellow Diamond ring in white gold
Traditional and Classy Engagement Rings
Traditional engagement rings can be absolutely stunning. Traditional rings are versatile in terms of diamond size, color, the style, as well as the precious metals used to make it.
Women prefer traditional rings for a variety of reasons. It could be the timeless look of them, or the reminder of what is often seen in romantic movies. Vintage is always a safe bet, and a traditional ring might remind a bride of her mother or grandmother's ring. Most traditional engagement rings feature white diamonds set in white gold or yellow gold.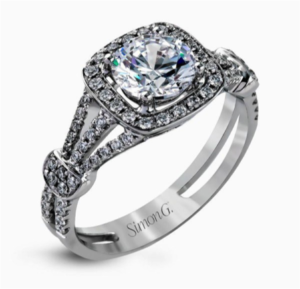 Classy white gold band with white diamonds
Colorful Engagement Rings
The appearance of rich color is getting more and more popular in fine jewelry, especially with designer engagement rings. You will see a variety of colorful metals. Rose Gold is at the height of popularity, as is the mixed-metals trend. Your ring can also be designed with brightly colored you gemstones in a white or yellow setting. You can find beautiful rings featuring colorful diamonds, rubies, and emeralds, and sapphires.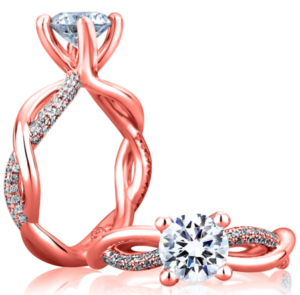 Rose Gold Vine Motif Engagement Ring
Affecting the Cost of your Engagement Ring
If you want a designer ring, you can control the cost of your ring to some extent- even if you have expensive taste. The size and clarity of the gemstones will have an impact on the price. In many cases, you can purchase a designer band of your choice, and purchase a diamond separately for the jeweler to set. You can also choose gemstones that are less expensive, if you are willing to break from the tradition of diamonds. Precious stones like rubies and emeralds will do beautifully and they usually cost less than a diamond of the same size and carats.
Metals also matter
Gold comes in a variety of colors and in several alloys. Since platinum and yellow gold and white gold are the most valuable precious metals, these are usually the choice for engagement rings. If the percentage of gold is lower, the ring will be cheaper. For instance, a 24K gold ring is pure and is the most valuable, so it costs more than a 22K or 18K ring. Of course, you're compromising the quality if you choose a cheaper metal, but you may find it necessary to control the cost of your ring this way.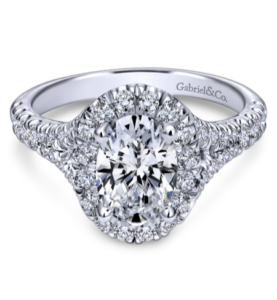 Pave Shank and Oval Diamond Halo Ring
Famous Ladies and their Rings
Everyone knows that celebrity fiancées love to flaunt their ultra expensive and perfectly rare designer engagement rings. Grooms in the upper class take pride in giving the biggest, brightest, and priciest diamond rings. Considering Beyonce's 20-carat stunner, valued at a staggering five million dollars, these designer diamond rings are luxurious to say the least!
1. Victoria Beckham
Arguably, Victoria Beckham is the reigning queen when it comes to designer engagement rings. It is believed that she has more than 13 different rings given by her husband David Beckham over their 15-year+ long marriage.
2. Reese Witherspoon
Witherspoon is another celebrity who has been spotted wearing a 4-carat Ashoka-cut diamond custom-designed worth $250,000.
3. Nicole Kidman
County star Keith Urban was unique in his choice of ring to fiancée Nicole Kidman. The ring features more than one solitaire stone. The ring was valued at $50,000.
4. Kim Kardashian
To celebrate his marriage, rapper Kanye West bought Kim Kardashian a 15-carat diamond ring that is valued at $1.25 million.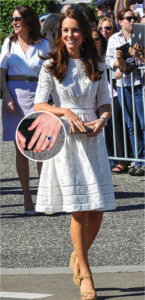 5. Kate Middleton
Kate is has been spotted on several occasions wearing a blue sapphire engagement ring, given to her by Prince William. The ring features a twelve-carat central sapphire stone and fourteen solitaire diamonds. It is estimated that the ring cost him a stunning $550,000.
6. Jessica Biel
Justin Timberlake's proposal to fiancée Jessica Biel was well equipped with a 6-carat diamond ring- a ring that he actually helped to design, inspired by vintage styles.
Pick the perfect ring
What designer engagement rings are you considering for yourself (or your bride)? Whatever your favorite style or color, make sure you pick an unforgettable ring that makes you light up whenever you see it!