Gurhan is a self-taught Turkish jewelry designer who made his home in New York City. He is now considered a citizen of the world and a renaissance man, best known for his innovative technique of crafting wearable jewelry out of pure 24-karat gold. Let's take a closer look at Gurhan jewelry.
The Origin of Gurhan
Gurhan originally focused his life on his love of music by opening and operating music clubs, but he had a change of interests when he reached his forties. Jewelry making became Gurhan's craft of choice after getting hands on a sheet of pure 24-karat gold. The look and feel of the pure gold inspired his passion for using that medium to design and create wearable pieces of art.
Modern jewelry designers had avoided using pure gold since because it is soft and difficult to work with. Gurhan, however, was determined. Without a background in jewelry design, he set about learning about gold from the ancient masters. For eighteen months, he studied and experimented with metals and jewels. His goal was to recreate the work of the goldsmiths of old. Gurhan would become famous for resurrecting this lost art.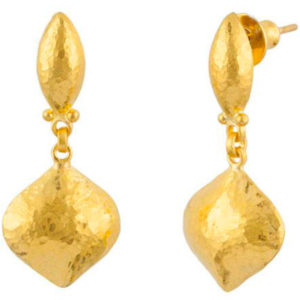 Breaking the Rules
Gold jewelry is usually made from 14K, 18K, or 22K gold. When gold is blended with an alloy, it becomeshard enough to mold and durable enough to wear. A standard 18K necklace is around 75% gold while the other 25% consists of other metals like silver. An alloy is added for strength, but the downside is that it devalues the gold, which is no longer pure.
A miracle worker of sorts, Gurhan found a way to use pure 24 carat gold to make handcrafted pieces of jewelry. Other jewelry makers were soon outshined by Gurhan's pure gold jewelry collection. He opened a small shop in Istanbul, Turkey, and the world was drawn to his gift.
The Gurhan Goldsmith Method
Gurhan used his passion for pure gold to bring a revival of 24-carat gold jewelry. He is considered a pioneer for developing proprietary new methods of working with pure gold. These methods are not fully revealed but we do know the gold is heated up to soften it. The soft metal is shaped and hammered out into a hardened layer. It is then allowed to age in a 400-degree oven for 24-36 hours. This is how the pure gold jewelry is hardened and made durable.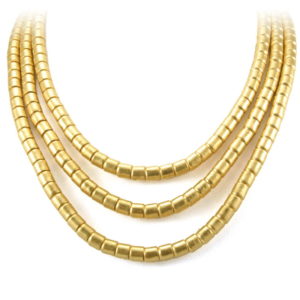 Gurhan has improved on ancient goldsmith techniques by addressing the issues of softness, weight and expense. His jewelry preserves the look and color of pure gold without the heaviness often associated with 24K gold. Those new techniques keep the jewelry in the affordable range for admires of exquisite fine jewelry. Each piece is handcrafted first by Gurhan himself, and then his artisans are taught the technique needed to finish off the piece. A unique number is engraved on each piece as a mark of authenticity. Gurhan specifically hires artisans with no jewelry making experience at all, so he can essentially pour his knowledge onto a blank canvas.
While Gurhan jewelry is made using traditional methods, the designs are contemporary. There are beautiful combinations of gold and diamonds or other precious stones. Today, innovative and popular pieces consist of "gold kissed" sterling silver combined with dark stones such as cabochon apatite or drusy quartz. The combinations are breathtaking.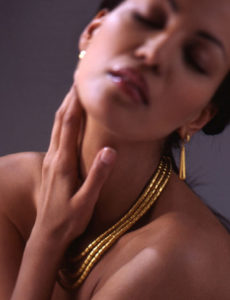 Gurhan is for Women of Substance
Famous women well known for their beauty, talents, strength and commitment have been spotted and photographed wearing Gurhan jewelry. A few notable Gurhan fans are Angelina Jolie, Oprah Winfrey, Queen Rania of Jordan, Hillary Clinton and Sandra Bullock. Others from stage and music include Mary J Blige, Catherine Curtin, Gwen Stefani and Jennifer Lopez, to name just a few. Women of all ages find a rare beauty in the Gurhan jewelry collections. They represent diverse, exotic and eclectic lifestyles and taste, all of which can be found in Gurhan jewelry collections.
The Significance of Gurhan Jewelry
Gurhan jewelry is highly in demand, proving that 24K gold once again has a place in the world. He has brought to life an ancient craft through the use of modern technology while maintaining the original and ancient legacy. Today, Gurhan jewelry stores are located in Istanbul and New York City. The company collaborates with a handful of select retailers to carry the Gurhan brand. Gurhan and his wife reside in New York where they oversee the design and corporate operations of their fine jewelry company, inspired by exotic adventures all over the world