No matter the dude, no matter the day, John Hardy for the Guys has something for every type of man. Polished and fancy for the sharp dresser, or cool and versatile for the one with relaxed style- Go with John Hardy for the guys and you'll know you hit a homerun!
What's John Hardy for the Guys all about?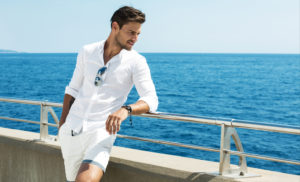 John Hardy jewelry has an internationally renowned look. The John Hardy collections are made to be tough and durable with a particularly rock star vibe to every piece. What makes this cool line different from other edgy men's jewelry brands is that it strictly uses precious materials, rightfully placing John Hardy on top of the luxury jewelry category.
John Hardy for the Guys who are cool and unassuming
Jewelry made by John Hardy for the Guys features details like dragon heads and braided leather. Eighteen-karat yellow gold is paired with sterling silver detailing, accentuated by high-quality diamonds and exotic gemstones. Even the trendsetters at GQ noticed this hip brand of jewelry, made for a cool and unassuming personality. The classic and modern designs are for a sharp dresser professional, and the Legends Naga is for the casual and creative type. Whatever his style, he is going to like John Hardy for the guys.
For the Suit-and-Tie Guy: John Hardy Classic and Modern Styles
If your guy is a sharp dresser who's all about successful meetings and firm handshakes, he will like the classic and modern pieces seen here. Check out the bracelets, cufflinks, and necklaces in the John Hardy for the Guys collections and pick out the ones that would look the great with his favorite suit!
John Hardy for the Guys
This chain bracelet will look good peeking from under the cuff his shirt and suit jacket. If he's not fond of silver, check out the other John Hardy mens bracelets for bronze and other colorful alternatives.
Classic Chain Square Cufflinks
John Hardy for the Guys
Add the square matching cufflinks to complete the subtle but unmistakably tasteful look. These cufflinks come in green, blue, and red, if he's into color coordinated furnishings.
Don't forget about something for his days off!
If your classically handsome guy wears suits to work five days a week, he probably wants to be in something comfortable on weekends. He can keep his cool style in jeans a button up with this classic pendant necklace. John Hardy for the Guys created a dog tag pendant to keep your dude feeling sharp and manly even when he's in relaxed clothing.
John Hardy for the Guys
Keep the bracelet on and add a Black Volcanic and Black Sapphire Lava dog tag from the same Classic Chain Collection.
For the Relaxed and Creative Soul: John Hardy Naga Legends
If your man is a relaxed and casual type who prefers comfortable and cool clothing, and he's the happy, high-fiving creative type, he's going to get a kick out of Naga Legends.
Naga is a serpent deity in Hindu and Buddhist mythology. Bali's many religions are often represented in John Hardy creations.
This collection of John Hardy for the Guys mens jewelry is made for a rock star with really cool design elements built in. If he plays guitar, sketches a lot, or likes working with his hands, some new rings and bracelets will frequently remind him of you!
Legends Naga Dragon head Ring
John Hardy for the Guys
I bet you've never seen a ring like this one. The sculpted dragon head makes for a fierce and decidedly unique ring. Black sapphires create depth while smooth rubies form eyes.
N
aga Double Wrap Silver Link Bracelet
John Hardy for the Guys
Here's a tough look for a jeans and tee guy. It's a hot bracelet with great detailing and textures. The beads come in black chalcedony, turquoise, tiger-eye, lapis lazuli, and red coral – your choice (or his!) All gemstones used by John Hardy is responsibly sourced.
Black Matrix Large Dog Tag Pendant
John Hardy for the Guys
This dog tag pendant mens necklace is never coming off! Since it goes with everything from tee shirt to button ups, and it's even comfortable enough to wear in bed, he's going to keep this pendant right by his heart- just like you.
John Hardy deserves a high five and a handshake!
There is no question- John Hardy for Guys was really designed with all different types of guys in mind. If you're shopping for a gift for a hard-working man who likes to look good, you will not only help him look good but he will feel amazing- wearing luxury jewelry that fits his style to a tee! You can't go wrong with John Hardy for the Guys.