Interesting rings on man hands make for an undeniably cool look, and you don't have to be fancy to pull it off. Discover these designer rings John Hardy for the guys!
Rings to fit any man's style
Looking for a worthy gift to give to that special man in your life? Or, maybe it's your son or your brother who deserves a nice surprise.
If you don't want to go the traditional cufflinks route, John Hardy rings are an equally masculine choice of luxury jewelry. If your guy lives for casual and easy style, he'd likely prefer something to wear with jeans and a tee shirt. If he is a suit and tie kind of fellow, there are John Hardy rings made with him in mind, too.
See how this guy at GQ developed a personal style that includes wearing rings on almost every finger. It all started with a turquoise and sterling silver pinky ring. Most dudes wouldn't go for all of that flashiness, but one or two rings is a great look for the guys.
Coolest Rings John Hardy for the Guys

1. Legends Naga Dragon Head Ring
This Dragon Head ring by John Hardy will effortlessly bump up the cool factor of any casual menswear look. With ruby eyes and black sapphire detailing, this high-end ring is incredibly sick. The rock star vibe of this piece is obvious, and it's a perfect accessory for a band member or artist.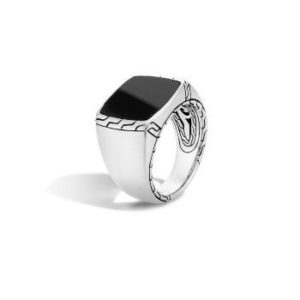 2. John Hardy Classic Chain Signet Ring
This black jade signet ring is really sharp. If your man has a unique taste and he's usually tough to shop for, take a good look at this clean and detailed ring by John Hardy for the guys. Notice the etching along the face and rim and inside of the band. The shape and colors are universally likeable and it's a safe choice for any guy.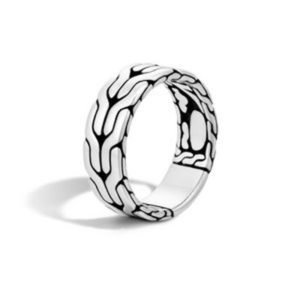 3. John Hardy Classic Chain Band Ring
It doesn't get any more classic than this, when it comes to rings made by John Hardy for the guys. This interesting take on a classic chain band ring is worth some consideration. The black etching creates a very cool pattern that some will say looks like a chain, while others think of it like the points on a pitchfork. It can be worn daily, dressed up with a suit, or roughed up with a tank and some denim.
Rings on his Fingers
If he isn't much of a ring wearer, you'd still be surprised how well received these John Hardy for the Guys rings are. Whether he plays guitar or he does a lot of writing, the rings on his fingers will catch his eye throughout the day. Choose wisely from this sustainable fashion brand. Your gift could become an instant favorite and be the start of his signature new look!