Your wedding plans are coming together and you've spent plenty of money already, but you want to get a special gift for your groom. Here are some ideas to help you pick something for the right wedding gift amount.
How to Find the Right Wedding Gift Amount
Deciding on the right wedding gift amount is the first step. You want to find something that he will love and something that's worth the splurge without breaking the bank.
A gift to your groom doesn't have to cost much (because your love is enough!) but you want to give him something that will make him smile that dreamy smile. So, here are two ways to figure out the right type of purchase for the right wedding gift amount.
What types of gifts does your groom like?
Do you know what your fiancée likes? Has he mentioned what his favorite types of possessions are? Does he prefer gifts that he can use all the time or gifts that are meant for special occasions? Questions like these are important to contemplate because narrowing down your focus to one thing, before you go to the store, can save you a lot time and hassle. Reflect on your past interactions and try to remember things that he's mentioned before. You can start by making a list and narrowing it down.
What can you afford?
Weddings are expensive events. While you may or may not be paying for your own wedding, money is a topic of conversation when you're starting a new life together.
If you are planning to spend a generous amount on a wedding gift to your groom, there are several excellent gift options to consider.
The most classic choice would be a Mens Rolex Watch to symbolize how much you value your time spent together. This is a fantastic choice for many reasons, but ultimately a gift like this would combine form and function. He would likely wear his watch everyday, and he'd think of you frequently as he checks it for the time. Keep an appropriate gift like this towards the top of your list.
Another great choice is a masculine piece from the John Hardy jewelry collection. Statement-making rings and cool pendant necklaces from John Hardy will nicely suit a modern young man. If your groom is more of a buttoned-up type of guy, you should browse the assortment of powerful chain bracelets and cufflinks. These pieces of jewelry will look incredible on him, and he'll enjoy wearing them because you picked them out.
Great ideas for a Wedding Gift Amount around $500
But if you're budget is more conservative, you should look for a gift in the price range of around $500. If a Rolex is out of the question, you might consider a Hamilton Watch according to your groom's style and taste. Timepieces can really make the most perfect gifts, especially for a man who prefers functional items that he can use.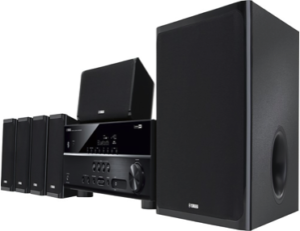 Yamaha 3D Home Theater System $459.99
This is definitely one of those double duty gifts, because while he'll love it, you'll love it too. Here is a premium surround sound home theater speaker system that he will have an easy time installing and setting up to his liking.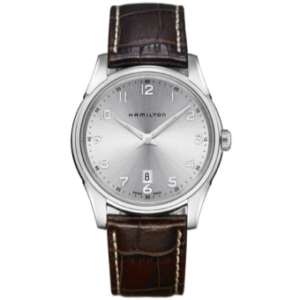 Hamilton Mens Watch $445.00
Here is a gift that certainly gives off the classic, luxury feel. What man wouldn't love to add this sharp watch to his collection? He will think of his beautiful bride anytime he checks the time.
Great ideas for a Wedding Gift Amount under $100
If you really can't afford a wedding day gift for your groom but you don't want to go empty-handed, there are appropriate options that won't cost more than $100.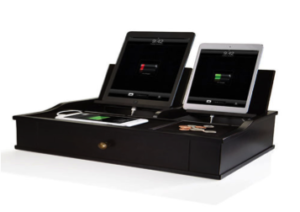 Large Charging Valet $69.00
With the world being so phone, tablet and computer dependent, we also need a convenient place to charge our beloved electronics. This is where the Charging Valet comes in. It feature 5-device charging abilities with extra compartments for storage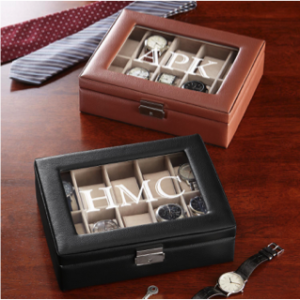 Personalized Watch Box $49.99
This is one of those meaningful gifts. One that can be used, but also personalized to say whatever is in your heart on the cover. You can make it an anniversary traditional to give him a new watch or piece of jewelry each year that you are married, and he can keep his collection in this luxury box.
Don't stress over your wedding gift amount
Remember that your marriage is the main event- so you shouldn't let this process of buying a wedding gift become unnecessarily stressful for you. What matters is that you have a clear vision of your budget, you set your expectations and figure out what wedding gift amount is right for you and your groom.
As long as you don't completely miss the mark, he will love the gift you choose because it's coming from you. Choose something that you think he will love and treasure for years to come!