Represent your marital bliss in style with engagement ring sets that include coordinating wedding bands. Find luxury engagement rings and wedding bands that are perfectly designed to go together and compliment each other – just like the two of you!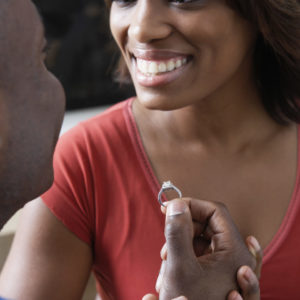 Engagement Ring Sets are an easy solution
Every bride and groom understands the purpose of the engagement ring and the wedding bands. These are to be presented and worn at different stages of your journey towards marriage. If you're shopping rings for both occasions, it makes sense to buy them at the same time to ensure the rings will go together nicely, and everything fits with no adjustments needed.
Engagement ring sets are designed and created as an easy solution, to simplify the buying process and help the bride choose wedding bands that coordinate with her engagement ring. The engagement ring and wedding bands should not just match in color, but also overall style.
The rings will be comfortable when worn together
Matching engagement ring sets are designed so you can wear both together as one- most appropriately! The rings should comfortably fit together. The design should always work to showcase the central diamond.  You will often find wedding bands that are contoured to slide beneath the engagement ring or interlock with it, making it less likely to pinch your finger.
Less chance of getting damaged and losing gemstones
An added benefit of wearing rings that were designed as a set is that they are less prone to getting scratched up and damaged. The rings in a set are made to sit side by side without bumping or overlapping each other. You're less likely to have a gemstone pop out, or have your ring get scratched if your wedding ring and engagement ring were made as a set.
Side by side: Engagement ring sets
These stylishly modest rings are designed to perfectly sit side by side without scratching or overlapping. These pieces are modeled in lustrous premium gold and diamonds. Featuring a dazzling geometric halo and a beautiful split shank design this luxurious engagement ring and wedding band set is cultured with 71 ctw premium white diamonds. This set also features an 18k rose gold and can comfortably accommodate a range of diamond cuts.

This engagement ring set by Katharine James features elegantly designed and handcrafted rings. This set offers a stunning combination of high-quality elements, making it one of the best sets you can find to perfectly capture the spirit of your love.
This stunning infinity collection set symbolizes two becoming one with a stylish micro pave design. Available in pure platinum, this set will stylistically vessel romance into your looks. Typified by precisely graduated rings, this set is crafted to ensure balance and symmetry.
U-set style: Engagement ring sets
The U-set wedding band sits perfectly when paired with your engagement ring. The shape and size of the U-set is determined by your engagement ring, so they essentially act as one piece. They are custom made to snugly follow the shape of your engagement ring. The rings in this set are designed to interlock and are created in a single band.
U-set wedding and engagement rings feature a single twist at the top, creating a U shape, making it easy to fit alongside your engagement ring setting.
Michael M. handcrafted U-set from Europa collection
This engagement ring set encompasses qualities of class and simplicity. The base of the ring band forms a U shape with four prongs to support the gemstone that suspends in the air above the U. This gives it the security of the prongs with no bulky basket, and forms stylish curves as a design element. U-set is ideal for those who want to show off larger stones.
Go along with the perfect match
You will love the simple solution of these gorgeous engagement ring sets. Get yourself a pair of wedding bands and engagement rings that sit perfectly sit side by side, without scratching or overlapping. The perfect match will be comfortable to wear and will look exquisite as a pair.