Hearts On Fire Rings
Hearts On Fire Rings are so eye-catching! Besides their unusually bright shine, the designs playfully use some very interesting shapes and lines that we don't often see in luxury jewelry. A special collection of Hearts On Fire diamonds are chosen and set into flawless, beautiful rings. While Hearts On Fire engagement rings have strong bragging power of their own, the HOF "right hand rings" collection is also breathtaking and unique.
The majority of their right hand rings are displayed in white gold or platinum with white or translucent diamonds. You can find a small number of yellow gold and rose gold rings by Hearts On Fire. If you're partial to these warmer types of gold, you can request certain styles to be made in the gold color of your choice.
Four Favorite HOF Rings
1. Lorelei Diamond Interlocking Right Hand Ring
The cut out Lorelei Diamond Interlocking Ring is a favorite because it's so easy to wear. Its youthful spirit is met with a noticeable elegance. You could wear this ring with dark wash denims and a crisp white shirt. You could also dress it up and pair it with a gown if you're going out for the evening. Versatility makes this ring a must-have.

2. Hearts On Fire Succession Ring
The design of the Succession Ring is really beautiful and unexpected. It makes the eyes dance as you follow its glimmering asymmetrical curves. Like a wave, the diamonds ebb and flow in this ring. Two small sparkling rows border either side of the middle row of larger diamonds, as skin peeks from behind.

3. Aerial Diamond Butterfly Double Finger Ring
This trendy double-finger ring by Hearts on Fire is sure to attract attention and interest. Accented with a diamond butterfly on one side, and petal-shaped mountings on a pave band on the other, this ring perfectly balances the elements of daring and dainty.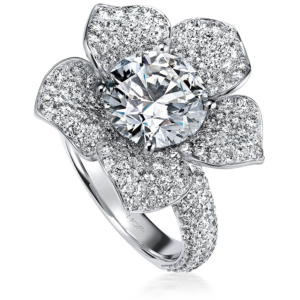 4. Hearts On Fire Rosette Ring
This diamond-covered Rosette ring is a hand full, but in a good way! A true showstopper, you can't sneak by when you're wearing this ring. Prepare to be noticed because this Hearts On Fire ring dazzles. The perfectly cut center of the flower is a 6.59k diamond, surrounded by brilliant pave diamond petals, for a total of 9.5 carats in all.
Celebrate your individuality with a HOF ring
There is nothing boring or predictable about these Hearts On Fire rings. They were specifically designed to show off the wearer's unique personality, and that is why we love them!
You don't need a man to propose to make your heart to leap with joy over a ring. Give yourself the unforgettable gift of Hearts On Fire, just to celebrate who you are.