Armenta jewelry caters to a taste that is dark and mysterious. These edgy pieces are influenced by history and literature, combining old world and new world elements. Both men and women gravitate towards the luxurious Armenta jewelry brand.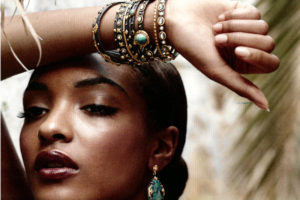 How Armenta jewelry came together
Armenta jewelry is a luxury brand that was founded by a woman named Emily Armenta. She developed a love for art and design at a very young age, and came up with a concept for a jewelry store in college. That very plan was applied as the foundation for Armenta. As you might expect from an artist, Emily relies on her thoughts and emotions and sources of inspiration to direct her creative powers. She's been inspired by literature such as the writings of Christopher Columbus about the New World.
The Midnight collection by Armenta was recognized for its magnificent design in 2009. This collection received the Couture Design Best in Silver award. Armenta jewelry is sold at the finest department stores around the world.
Launched in 2001, the Armenta jewelry company provides jobs for over 200 people. Armenta releases more than six thousand pieces of jewelry each year. Each piece is manufactured in a 10,000 square foot studio in Huston, Texas, because Emily insists on personally handling the craftsmanship. Her business philosophy embodies precision, creativity, diversity, and hard work.
Finding beauty and potential in others
A few years into designing Armenta jewelry, Emily came into contact with a woman of Spanish decent named Lydia. Emily noticed this woman who was emptying trashcans in the Armenta studio. Although there was a notable communication barrier, Emily saw something special in Lydia that others failed to see. Today, Lydia is the Vice President of Development for the Armenta Company. She now speaks fluent English and is responsible for most of the company's training programs and she has a major impact on the company's success.
Signature Features of Armenta Jewelry
These unmistakable features are found throughout Armenta jewelry collections:
Crivelli- Makes use of seemingly flawed, imperfect materials, and brings attention to details to highlight the beauty of imperfections. This artistic approach is the brainchild of the Italian painter, Carlos Crivelli.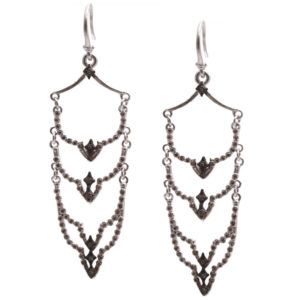 Scroll- Seeks to represent the quest for education. The scroll is a reflection of the company's history as it seeks to motivate others to strive for greatness.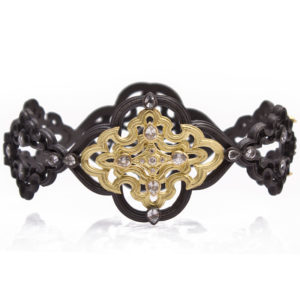 Shield- A symbol of protection, the shield tells the story of battles and wars won in history.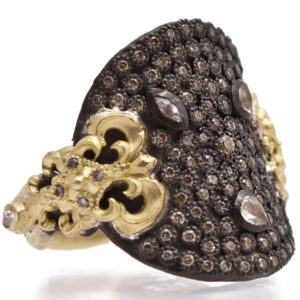 Circle- The circle represents the grounded-ness, wholeness, and completeness that are the true to the heart of the Armenta jewelry company.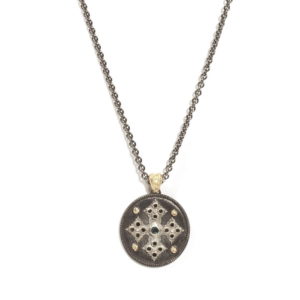 The Artifact Collection
This unique collection of masterpieces is Armenta's way of reminding the world of how far we have come throughout the course of history. Each piece created for the Artifact Collection is based on artifacts that were found over 5,000 years ago around the European geographic area. These luxuriously telling pieces are intended to help people to recognize that we are all of the same roots and have some form of connection that runs throughout the human race.
Constellation Collection
This special collection seeks to represent a guiding star for future generations. It is based on ancient beliefs that there are messages written in the stars. Designed around the constellations, this exquisite collection is a combination of ancient stories and modern designs. The patterns in the sky serve as inspiration for the placement of diamonds and the shapes edges in the finest gold. These pieces are visually beautiful but they hold a deeper meaning, especially for someone who follows celestial bodies and finds purpose in the alignment of the stars and planets.
Celebrities wear Armenta jewelry
There are several celebrities who appreciate Emily Armenta's artistic point of view and are frequently seen wearing Armenta jewelry. Here is a brief list of fashionable, famous women who wear Armenta:
Audra McDonald
Halle Berry
Queen Rania of Jordon
Miley Cyrus
Miranda Lambert
Olivia Wilde
Fall under the spell of Armenta
With the firm belief that art speaks even louder than the natural voice, the Armenta Company has something profound and hauntingly beautiful for every occasion. Armenta jewelry is a fantastic brand with a darkly seductive nature. Don't miss out on these designer rings, bracelets, earrings, necklaces, and even Armenta for the guys! You certainly won't mind falling under its spell.