Emerald cut engagement rings make a statement about the bride-to-be. This retro gemstone shape is a favorite among sophisticated, glamorous women. The emerald cut engagement ring comes from the Art Deco era, and its old Hollywood vibe is still hot today!
The Emerald Cut Engagement Ring
The emerald cut engagement ring diamond has roots in the early 1900s, when this gemstone cut was designed to maximize the clarity of emerald jewelry. Cut in "steps" or levels, with octagon corners, the emerald cut has a large flat surface or "table." The flat surface reveals the clarity of the gemstone, so it's advisable to buy the best quality diamond you can afford. If you're hoping to buy a lower quality diamond, the emerald cut is not the best choice because it's not a very forgiving cut. Other cuts conceal flaws, but the emerald cut reveals flaws in the large mirror like facets.
Why you should choose an emerald cut
One great thing about the emerald cut is diamond is that it makes the diamond look larger. It can be less expensive than a princess cut or round cut of the same carat weight. Set your emerald cut diamond in a cushion or halo of brilliant round cut diamonds for added sparkle.
The open style of the emerald cut engagement ring shape is symbolic of a woman's open heart and confidence in taking the important steps on her journey into married life. Emerald cut engagement rings are best for women who are comfortable in their own skin and do not require approval from others. Some may consider this lovely lady to be old-fashioned because her style is tends to be on the vintage side. Emerald cut diamonds are showy and they certainly make a big statement, as if to say "I know what I like, and I love who I am."
Old Hollywood gave us emerald cut diamonds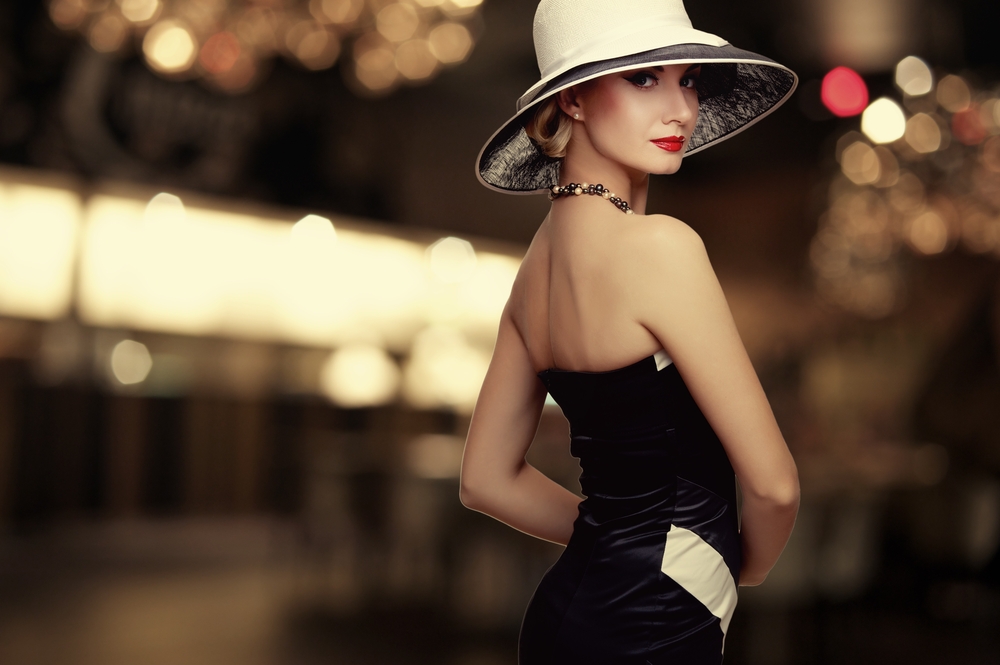 Emerald cut engagement rings were in high demand during the glamorous days of old Hollywood. The geometric design of the emerald cut diamond was popular during the Art Deco era of 1920's and 1930's when designers, artists and architects were promoting creations inspired by everyday life and nature. The theme was that everything we use, see and touch in daily life is connected to art.  Nothing was too great to escape the Art Deco influence, as depicted by the famous Chrysler building. Nothing was too ordinary to be made beautiful, and everything was heavily embellished during this time- even down to the bath fixtures.
Celebs Who Chose Emerald Cut Engagement Rings
Celebrities and fashion icons looking to embrace a retro style and historical essence have rediscovered iconic emerald cut engagement rings.
Emerald cut engagement rings can feature a diamond or an emerald, or even a ruby or sapphire. These precious gemstones can all be cut with the octagonal step-style cut that's won the hearts of many famous brides!
Amal Alamuddin, wife of George Clooney wears a beautiful example of an emerald cut diamond ring with baguette side stones.
Angelina Jolie Pitt's engagement ring from Brad is interesting because not only does it have the emerald cut elongated center stone but it is mounted with smaller stones graduated in size and faceted to match the center stone.
Ellen Pompeo's emerald cut center stone from Chris Ivery is set on a band of diamonds. Although 3-carats in weight, the ring is delicate and feminine.
Kristen Bell received an emerald cut fancy diamond with white diamond accents that was chosen just for her by Dax Shepard.
It's Pink! Mariah Carey's 17 carat emerald cut diamond from Nick Cannon has a pink center stone and 58 pink diamonds plus half-moon cut diamond halo.
Kim Kardashian wears a 20.5-carat emerald cut center stone with two side trapezoids of 2 carats each.
Kate Hudson received this nine-carat emerald cut diamond with tapered baguettes from Matthew Bellamy.
Our Favorite Emerald Cut Engagement Rings
Of all the beautiful, retro-styled emerald cut engagement rings in the world, there are a few that really catch the eye. Here is a handful of specially crafted emerald cut rings that stood out from the rest. You might fall in love with one of these styles, if emerald cut diamonds are your taste.
Gabriel & Co.
Horizontal Emerald Cut Diamond Halo With Channel Setting. Intricately hand crafted with side diamond channels. Light, feminine and charming.
Gabriel & Co.
A bit of the Art déco in this outstanding emerald cut with pave halo and filigree Setting. Intricate pave diamonds and milgrain details.
Simon G.
White Gold and Rose Gold ring with a modern geometric design. Amazing emerald cut center diamond with white baguette diamonds,  and glorious tiny pink diamonds set into the rose gold band.
Katharine James Bella's Love® Emerald Cut
This emerald cut ring is a renaissance masterpiece. Emerald cut diamond mounted in platinum with 218 pave set diamonds on the braided band and framing the center diamond, from the Fire and Mirrors collection.
Michael B
Here is another gorgeous emerald cut engagement ring.
Hand crafted for balance and symmetry. Center emerald cut diamond with individual white diamonds in their own individual setting on the band.
Get a glamorous, fresh bridal style
Emerald cut engagement rings are the perfect choice for the bride who wants to be different from the crowd, a little bit retro, and timelessly beautiful. The bonus is that your diamond appears larger, a shape less likely to snag on clothing, and is a less expensive cut than the more popular ones. Embrace a fresh bridal style with an emerald cut diamond engagement ring!