The collections of Gurhan earrings are handcrafted using proprietary methods to make wearable jewelry straight from pure gold. Gurhan earrings are durable and prestigious, and they are placed in a category of their own.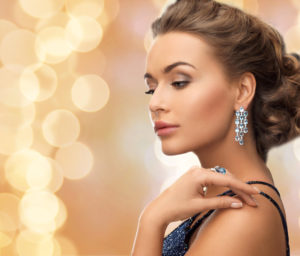 Gurhan Earrings changed the jewelry industry
Gurhan is a name that really stands on its own. Before this designer stepped into the world of luxury jewelry, many others had tried and failed at using pure gold in their designs. Fine jewelry was typically made from 14k gold that was mixed with alloys to make it hard enough to mold.
A pair of Gurhan earrings is what it took to shake up the jewelry industry. Gurhan the man created Gurhan the brand, and both transcended jewelry standards in 1997. A durable pair of pure gold Gurhan earrings literally challenged the way that all luxury jewelry was made. Goldsmiths rose to the occasion, trying to figure out how to make pure gold wearable jewelry. The Gold Council heralded Gurhan's innovative techniques and high mastery of the goldsmith craft.
Some of the top Gurhan earrings designs include:
24k Yellow Gold Hammered Lentil Drop Earrings
This pair of earrings is a showpiece! These yellow gold drop earrings are made from fine yellow premium gold, which has no fluorescence! The yellow lentil drop earring design strongly exudes brilliance. It has an unbelievable sparkle. Featuring pure yellow gold, this earring set is for an affluent woman.

Double Drop Hoop Earrings
The double drop hoop earring is perhaps the most classic, elegant, and versatile earring you should have in your wardrobe. Featuring pure 24k yellow gold, this pair of Gurhan earrings will complete your look. This classic double drop hoop style features medium and small oval links and 1-½ inches in total length.
24k Yellow Gold Disc Drop Earrings
The 24k gold disk drop earring is a multi-cultural accessory that can be worn on many different occasions. Gold disk drop earrings match well with other accessories and exude beautiful yellow tones with splendid luster. These earrings are beautiful and feature tons of sparkle, color, and brilliance. They are smooth, premium, and stylish, making a great complimentary piece for your look.
J Hoop Earrings
This is a 24k yellow gold J hoop earring and it is artistically designed to give a hypnotic effect to
your accessories. Featuring handsome glossy stones with intriguing matrix, the J Hoop earrings are classy and elegant in design. While they look as though they are solid, the inside is hollow so they are more comfortable to wear and also more affordable.
Celebrities seen wearing Gurhan earrings
Several celebrities have been spotted wearing Gurhan jewelry. From Sandra Bullock, to Sheryl Crow, you're sure to notice Gurhan's gorgeous pieces during big events.
Join this prestigious group and treat yourself to some decadent pure gold earrings. You will get plenty of use out of them, whether you are going to work, to a dinner date, or to a red carpet event.
Look as Good as Gold in Gurhan Earrings
You won't go wrong choosing from the clean and timeless earring styles above. Not only will these classic styles serve your wardrobe, but they will also maintain their value. Choose Gurhan earrings made from pure gold next time you're in the market!