Do you have brand loyalty when it comes to luxury jewelry? If you don't know which styles and designers are the best, check out these top luxury jewelry brands of today!
Top Luxury Jewelry Brands
The pieces of jewelry that you've selected must be worthy of the occasion. You might be looking to commemorate a special event like an engagement, wedding, a personal triumph or some other milestone. Which designers are most worthy of this honour?
Even if you're drawn to multiple designers, there are one or two that will call your name. Here are some luxury jewelry brands that are especially deserving of your attention:
Find your signature in this selection of top luxury jewelry brands!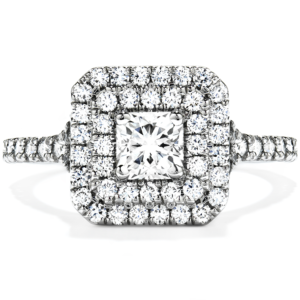 1. Hearts On Fire
Hearts On Fire is known for creating The World's Most Perfectly Cut Diamond®. Few of the earth's rough diamonds are good enough to be selected and used by Hearts On Fire. In fact, only 0.10% of diamonds worldwide manage to reach the standard for purity and sparkle. There are a limited number of diamond cutters that are skilled enough to release the maximum sparkle and fire from these rare stones.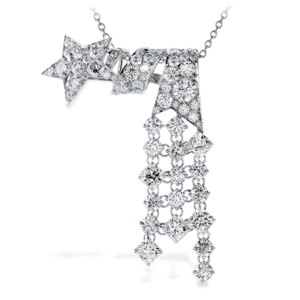 Hearts On Fire's Transcend Double Halo Dream Engagement Ring is one of the best- selling engagement rings of
all time. This ring, plus the company's collaboration with Godiva Chocolate and Victoria's Secret, has brought great name recognition to the Hearts On Fire brand. Those who adore luxury jewelry know that Hearts On Fire represents perfectly cut diamonds, but there is more to the brand than their engagement rings.
Illa Asymmetrical Pendant Necklace by Hearts On Fire is famously beautiful. Like this, many other designs in their collections are unique, interesting and fun. These creations are often light-hearted and easy to wear, and absolutely effortless conversation starters.
2. Pasquale Bruni
Pasquale Bruni is among the world's greatest luxury jewelry brands. This wearable Italian art has unmistakable style. Some believe that Pasquale Bruni has changed the way the world sees luxury jewelry, and has changed the way it is produced.
As a boy, Pasquale Bruni was drawn to the workshops of Valenza, considered the jewelry capital of Italy. His eye for detail, training and experience assured his art would be a success. Today, Pasquale Bruni leads the company with the assistance of his daughter as creative director and his son Daniel as the head gemologist. They are a unique and gifted team.
18k rose gold and diamonds Bon Ton Ear Jackets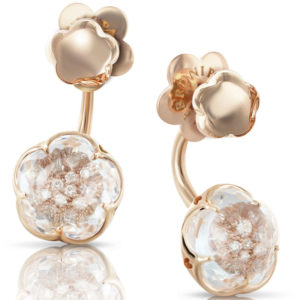 The use of precious gemstones with rose gold- a combination that Pasquale Bruni favors-, is an indication of the minute detail work upon which his reputation is built.
18k Rose Gold Mandala Elongated ring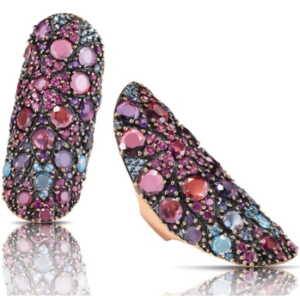 Mandala Elongated ring is a beautiful example of how colorful gemstones are blended with careful detail to complement each other. Amethyst is the primary gemstone in this ring with blue tpaz secondary. Lolite and rhodolite gemstones are also present in the setting.
3. IPPOLITA
The designer behind IPPOLITA believes that luxury jewelry is for every day and not just special occasions. She also believes that jewelry should say something, boldly. That is why this she has designed bold and versatile items for women around the world.
From the IPPOLITA Senso Collection, these gold and diamond pieces are easy to wear everyday. These are definitely a wardrobe go-to style that would pair up effortlessly with beachwear, business clothing or formalwear. IPPOLITA shows that simple makes a statement.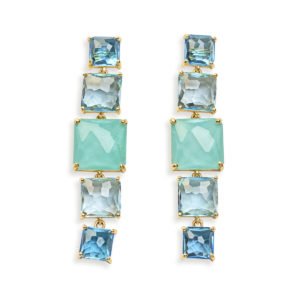 IPPOLITA Rock Candy Collection
IPPOLITA Luxury Waterfall Collection will have you feeling like a trip to the beach every time your eye catches the shimmer of the stones. Luxury jewelry designed by IPPOLITA is beautiful and draws attention to the wearer. It's fun and playful and meant to be enjoyed every day.
Choose designers that "get you"
The leaders of luxury jewelry brands are truly remarkable artists. They have a gift for seeing beauty in a unique light, and turning it into a valuable, wearable work of art. Luxury jewelry should be treasured for a lifetime and even beyond. These important items will be passed from hand to hand through your descendants. Your finest jewelry will symbolize life's most precious moments, so choose pieces by designers that "get you" by creating pieces that perfectly celebrate the stories of your life!