Are you a classic beauty who loves low maintenance everyday fashion? Or maybe you're a trendsetter who likes dressing to the nines and wearing bold designs. Whether your style is subtle or swanky, there are Marco Bicego necklaces to compliment your look!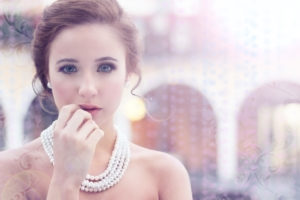 Because they are worn around the neck, necklaces are often the first thing people see when they look at you. They can tell of your taste, your way of life, and level of class. Marco Bicego has an incredible collection of necklaces. While each one is so different, they all share some things in common. Marco Bicego necklaces all feature skillfully manipulated gold and dazzling precious stones. The designs vary, so there is something for every woman's taste and style.
Marco Bicego Necklaces – a wide range to choose from
Whether you are looking for something simple and sophisticated or bold and swanky, it is guaranteed that something within Marco Bicego collections will fit you perfectly.
Here's a look at a few subtle necklaces designed by Marco Bicego. You can wear these necklaces everyday with practically anything in your wardrobe:
From the Jaipur Link Collection, this simple yet exquisite piece is skillfully crafted from 18k yellow gold. It features intentionally imperfect wavy links of varied sizes, a strong chain that is complemented by a smooth satin finish. It is 36" in length
This incredible breathtaking beauty was taken from the Siviglia collection. Made from 18k Yellow Gold and high quality diamonds, this gold and diamond sensation features a pave diamond station and a glazed satin finish.
If you're looking for more of statement piece to wear, check out these swanky Marco Bicego necklaces. You will find yourself putting together an outfit based on these styles:
Lunaria 18k Large Yellow Gold & Aquamarine Graduated Necklace
The swanky gold and aquamarine dream is 17.75" in length. It was crafted by hand from 18k yellow gold and features rose cut cushion dark aquamarine stations. This Marco Bicego necklace is part of the Lunaria collection.
Murano Necklace with Mixed Gemstones
From the Murano line, this dreamy piece sees the blending of several precious stones to create a colorful eye-pleasing masterpiece. The gemstones used for this enchanting piece includes London Blue Topaz, African Amethyst, Yellow Quartz, Rhodolite, Iolite, Pink Tourmaline, and Green Tourmaline. 
Five Strand Diamond Necklace in Yellow Gold
A piece that's fit for queens and princesses, this sophisticated Marco Bicego necklace was crafted from 18k yellow gold and embellished with white diamonds. It is a five-strand golden dream that is decorate with strategically placed diamonds to showcase beauty, attitude, and sophistication. It is 16.5 inches in length.
Marco Bicego Necklaces- Special Features
Each Marco Bicego Necklace is designed with a woman's face and body in mind. Featuring curves, colors, accents, and textures, it's hard not to find a piece that you not only fall helplessly in love with but one that fits your personality. All Marco Bicego Necklaces are crafted with the co-existing elements of simplicity and intricacy. This unique balance has caught the attention of well-dressed women such as Cameron Diaz and Hillary Clinton. Rings, bracelets, and earrings by designer Marco Bicego are a favorite of many high profile women, so you will be in very good company.
Always choose Marco Bicego Necklaces
Designed with the philosophy of highest quality, all Marco Bicego Necklaces are stunning in their own way. Whether they are crafted into subtle strands or dramatically sculpted into statement pieces, every necklace is made with you in mind; a woman who knows her worth and has high standards. Marco Bicego necklaces will not disappoint.