Can you tell if your sweetheart is a classic, traditional type of bride? Find out whether you should be shopping for traditional engagement rings before you pop the question
Traditional Engagement Rings are Alive and Well
Plenty has changed over the years. Engagements and bridal customs are far from predictable these days, and people just don't know what to expect. Many brides have moved away from traditional customs and are leaning towards modern trends. Creative couples are finding unique ways with of doing things surrounding- but unusual weddings are not for everyone…
The good news is that traditional engagement rings and bridal customs are still alive and well! A classic beauty doesn't want a trendy ring or some obscure theme at her ceremony. She has been dreaming of this day since she was a girl, and she wants to have a real wedding complete with a sparkling diamond traditional engagement ring!
Classic Women want Traditional Engagement Rings
You should be able to tell without asking her flat out whether she likes traditional engagement rings. Here are some clues that will help you to determine if your bride-to- be has classic taste and would rather have a traditional engagement ring:
Hopeless Romantic-
Does she push for chivalry and picture-perfect love stories? If she's a sucker for romance, your lovely lady will prefer the more traditional engagement rings. There's something about love stories and those classic styles found in wedding magazines- they seem to go hand in hand. If she cries over "chick flicks" and soaks up all the classic romance she can find, you can bet that she'll love more of a traditional style.
Storybook Princess-
This is the type of woman that has been planning her wedding since she was a little girl. She has already worked out almost every detail in her head. If she is obsessed with the happily ever after scenario, and she lives for being a girly-girl, and she gets excited about dressing up for fancy events, she is the kind of girl that likes traditional engagement rings. A princess needs a ring that is fit for royals, and traditional engagement rings are most definitely the way to go.
Sophisticated Style-
Is the love of your life the classy type, who would be decked out in high heels and pearls even on a casual date night out? Does she have a timeless style? She is a no-nonsense kind of woman. She would rather have French tipped nails for a classic manicure, instead of those abstract designs. She will love a traditional engagement ring, and choosing to go any other way would be downright disappointing to her.
By the Book-
If she is the type that likes to have a routine, is always making lists, and insists on doing things by the book, she will most likely expect a traditional wedding. She probably hopes that you will "ask the parents" for permission before asking for her hand in marriage. Give this woman the greatest surprise of her life! Pick out a traditional engagement ring and propose to her down on one knee, in classic proposal fashion.
8 perfect examples of Traditional Engagement Rings
Here are some of the most appropriate engagement ring choices for your classic bride-to- be: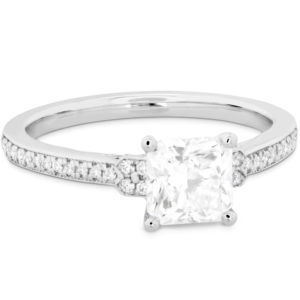 1. Deco Chic Ring with Milgrain Shoulder by Hearts On Fire
You can't get any closer to traditional engagement rings than with the showstopper of a solitaire diamond with a platinum or white gold band. Crafted from 18k white gold, this stylish piece is designed with milgrain edged shoulders. Its beauty is indescribable.
---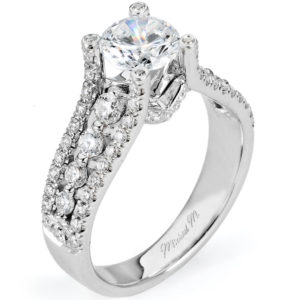 This round channel set, pave and bezel set diamonds masterpiece was crafted from 18k white gold. Its lavish and extravagant details are sure to make a traditional woman feel like royalty.
---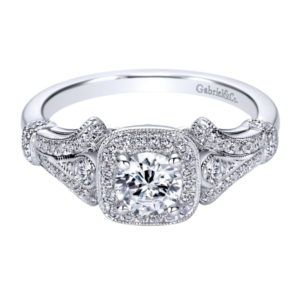 The detail on this vintage inspired engagement ring is truly breathtaking. This stunning work of art features a rounded square halo and stunning diamonds.
---

Crafted from 18k white gold, this style showcases graduated channel set diamonds. Presenting her with this elegant masterpiece will be the perfect way to begin your life together.
---

Befitting a princess, this breathtaking vintage piece features an enchanting halo and accents of 42 ctw. round cut white diamonds. This ring style is available in platinum, rose gold or 18k white gold.
---
 
From the Bella's Love Collection, this creation with the sophistication fit for a queen is sure to please that helpless romantic! The detailing and textured decoration is stunning.
---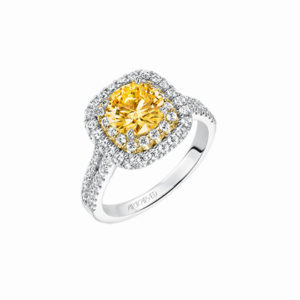 This dazzling piece features a Double Halo with Split Shank and is available in Platinum,18K White or Yellow Gold, 14K White or Yellow Gold, and Palladium. While yellow diamond engagement rings aren't considered to be traditional, the setting is very timeless and the white gold with white diamonds combo makes this unusual stone particularly appealing to the classic bride.
---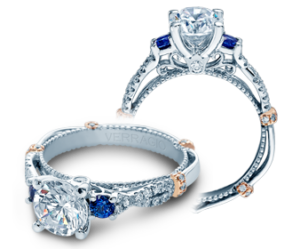 Selected from the new Parisian Collection, this gem of an engagement ring features a round cut diamond, with sapphires and rose gold accents. This ring is not what you may expect to see on a list of traditional engagement rings, because the colorful gemstones and mixed metals give it a decidedly modern feel. If you look at the setting and the center stone, this ring is a classic with fun elements added to keep things fresh. It's a nice option to blend timeless bridal with current fashion trend.
Celebrities who prefer traditional engagement rings
There are plenty of famous ladies flaunting traditional engagement rings, so don't think for a minute that traditional means outdated. Consider this eclectic group: Victoria Beckham, Jennifer Aniston, and Kate Middleton. Each of these modern ladies is wearing a classic style on her ring finger. Whether your bride is a princess or a pop culture fan, traditional engagement rings are a classic choice!