Watch Out!
If you are a nerd for all things mechanical, you will most likely discover the allure of a watch's movement and when the inevitable lust for well-made timepieces sets in, you are, well…screwed.  Or at least, so you thought. There is a common misconception about quality Swiss watches with famous names which is that they are simply unattainable. Enter Tudor, a company in existence since 1926 and owned by the biggest name in the business, ROLEX (aka the only watch you knew by name before you learned what a bezel or a crown was). Tudor was created by Hans Wilsdorf with the intentions of producing "a watch more modestly priced than a Rolex but with the same standards of reliability."  Present day, Tudor continues to deliver on Hans's promise as well as producing a superior in-house movement shelled in an attractive casing that pairs well with any attire and screams to people "I know my stuff".  Tudor stands as a testament to the rest of the industry that they can offer very affordable luxury timepieces – one of which I have had the ability to test-drive recently.
Close Encounter with COUTURE
So here I stand, a 27-year-old marketing professional heading to my first COUTURE SHOW in Las Vegas, Nevada. My objectives are clear and present but my packing list is, well… unfinished. I needed a versatile watch in a pinch so I consulted our team of watch wizards in our Somers Point store and I landed on a Tudor Black Bay with a blue bezel and matching leather strap. I love watches, but I am skinny Italian, thus my wrists resemble a hairy skeletor. For that very reason, picking a watch for me is not always the easiest of tasks. However, I can say from an aesthetic point of view, we totally nailed it. After I finished packing up my camera equipment I was ready fly out to Vegas to immerse myself into a brave new world.
#PicsOrItDidntHappen
A lot about going to the couture show I can just glaze over partially because it is now a giant blur and partially because it is either not interesting or not applicable to Tudor's Heritage Black Bay. That being said, in a show that has style gods by likes of Gucci and David Yurman being complimented on your attire + watch is truly a compliment of the highest caliber. These people both have & know style more than most and I can say I got quite a few compliments on my watch (and my very identifiable crazy hair).
The Heritage Black Bay
The Tudor Heritage Black Bay was presented for the first time in 2012 and honoured by the jury of the Grand Prix d'Horlogerie in Geneva the following year. The Black Bay was inspired by the first Submariner, as well as taking design cues from virtually all subsequent Submariner models. The Black Bay celebrates Tudor's diver watches. It is a part of the heritage distinction, which means the bezel, dial, and hands are designed to appear aged. That being said, even though the Black Bay appears vintage it doesn't comprise on its utility. Its sapphire lens really highlights the snowflake hands borrowed from the 7021. Its case is made of steel measuring 41mm in diameter with both polished & satin finishes. The bezel is a steel unidirectional rotatable bezel with a disc in matte blue in anodized aluminum. As for a movement, the Black Bay that adorned my wrist offers an Automatic caliber 2824. That being said, the movement in the most current model is an in-house (MT5602, MT stands for "Manufacture TUDOR") self-winding mechanical movement with a bidirectional rotor system. It offers a 70-hour power reserve and to quote TUDOR "a wearer can, for example, take off the watch on Friday evening and put it on again on Monday morning without having to wind it. Beating to a frequency of 28,800 beats/hour or 4Hz, the movement is regulated by a variable inertia oscillator with silicon balance spring, held in place by a traversing bridge – a guarantee of its robustness. Furthermore, the movement is certified by the Swiss Official Chronometer Testing Institute" If this all seems too technical and you were looking for quicker synopsis here it is:  All in all The Black Bay offers looks and quality that rival the crown.
All good things come in 3s.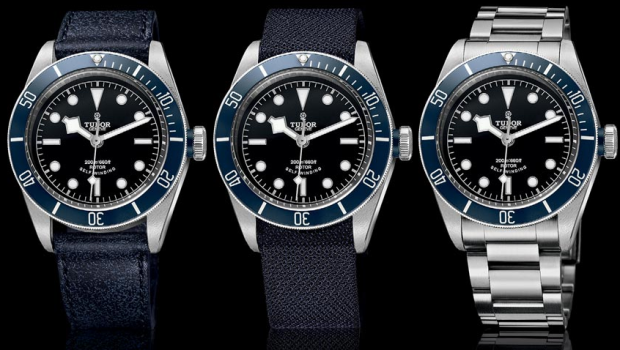 Conclusion:
After 8 days, 5000 miles traveled, 2 flight delays, 8 cab rides, 20 on-the-fly shoots, 6 parties, and countless meetings… I stilled liked catching a glimpse of my Black Bay peeking out of the cuffs of my shirt. When you really think about it, most people have a more technically advanced timekeeper in their pocket at all times. (smartphones) It is the desire to look upon a piece of art that is both mechanically inspiring and aesthetically compelling that draws us into the watch culture. Moreover, if living with a watch on your wrist day in and day out produces some extra endorphins, than I believe it is safe to assume you made a good decision!
Stay fearless & until next time, thanks for reading.
Peter Salerno
Lead Blogger
HQ- Somers Point