Statement-making jewelry allows a woman to draw the eye. David Yurman Jewelry has perfect pieces of jewelry to minimize your flaws and enhance your assets, whatever they may be!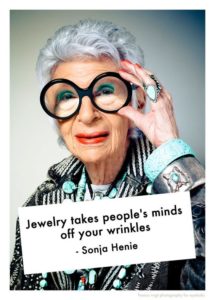 It was the iconic ice skater and film star Sonja Henie who said "Jewelry takes people's minds off your wrinkles." Whether or not you are worried about wrinkles, we all have imperfections. American luxury jewelry designer David Yurman keeps this in mind, and every piece is made to bring out the best in its wearer.
Whatever your taste, David Yurman has an immaculate piece to draw people's eyes to your best physical features.
Make a statement and command attention.
You will become a welcomed distraction.
The Story of David Yurman
As explained on David Yurman's official website, the David Yurman Luxury Brand was co-founded in 1980 by two New Yorkers: David Yurman, and his wife Sybil. Before they became involved with jewelry making, David was a sculptor and Sybil was a painter.
From there, David took an interest in handcrafting fine jewelry to give his beloved Sybil and his skills evolved to a level of near perfection. This power couple worked together to create and grow a brand that perfectly blends beauty and structure.
David Yurman's First Celebrated Design
In 1983, the David Yurman's cable bracelet put the brand's name on the map. You've probably seen the cable bracelet, which is a twisted helix decorated with a finish of fine gemstones. This piece happened to garner immediate success and is still one of the most highly coveted styles.
More to Celebrate
David Yurman jewelry has grown significantly over the years. Their luxurious designs have truly captured the sophistication of American luxury jewelry.
In 1997, David Yurman became the first designer to set diamonds in sterling silver, and introduced Silver Ice. David Yurman's Cable Watch Collection was developed soon after that.
In 2006, David Yurman launched a wedding collection, with a revolutionized collection of engagement rings.
Being both artist and artisan, David Yurman is involved in every step of the creation process for each piece of jewelry bearing his name. His personal touch, along with the application of precious metals and rare gemstones, make David Yurman one of the classiest jewelry brands in the world.
David and Sybil have a son, Evan Yurman, who has joined the family dynasty. Evan Yurman has become a leader in the categories of Men's Fashion, Bridal Jewelry, and Timepieces.
Favorite Pieces from the David Yurman Collection
There are several pieces worth spotlighting that set David Yurman apart from other luxury jewelry brands. Here are just a couple to show you the range within the David Yurman line.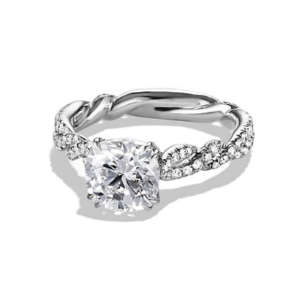 Two twisted bands covered in pavé diamonds with a cushion-cut feature for comfort and durability.
DY Cable Buckle Bracelet with Diamonds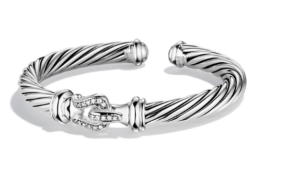 This strong, structural design made from sterling silver with pavé diamonds and an embellished hinge-style clasp.

DY Signature Bead Necklace with Ametrine in Gold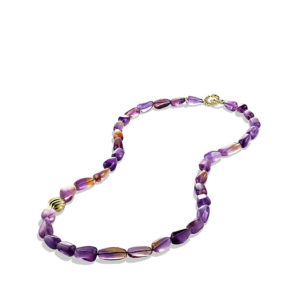 Crafted with 18-karat yellow gold, Cabochon Ametrine and sculpted cable, this exquisite piece is perfect for a celebration of any kind.
DY Signature Lariat Bead Necklace

Crafted with Pyrite, Carnelian, Citrine, Spessartite Garnet and 18K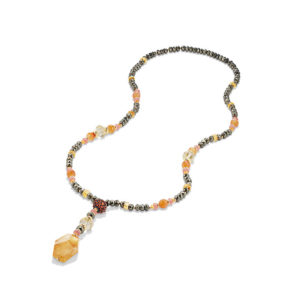 Gold, this exquisite ensemble is a true representation of the vibrancy of the DY signature. Created from silver black rhodium and 18-karat yellow gold, this signature piece is great for almost any occasion.
The David Yurman Jewelry is the Celebrity Brand of Choice
Because of its quality and sophistication, the David Yurman brand has been the number one choice of many celebrities and iconic figures. Quite a few of America's most famous people have been spotted wearing David Yurman's luxurious pieces.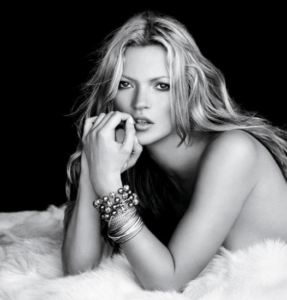 Kate Moss is inextricably linked to the David Yurman brand. You've surely seen the black-and-white magazine ads of Kate Moss' angelic aura as she's modeling a David Yurman bracelet.
Here are just a few other names that you should recognize as fans of David Yurman:
Kate Hudson
Joe Jonas
Jennifer Aniston
Brad Pitt
Camilla Belle
Jessica Simpson
Brie Larson
Dakota Johnson
Taylor Swift
Lucy Hale
Ryan Gosling
Shakira
Mariah Carey
Making history in American Luxury Jewelry
At the highest tier of American luxury jewelry sits the David Yurman brand. This luxury jewelry is unmatched in quality, beauty, and uniqueness. David Yurman's versatile pieces can fit into your everyday life, yet are fancy enough for special occasions. No matter what you want to show off, there is a David Yurman piece to give you the attention you deserve!