This blog post: A year in the making. (2:08pm) When Peter, our Social Media Manager, asked if I'd like to be a part of the Bernie Robbins Weekly Movements blog, I of course said "yes" and was excited to get started. His next question was, "What watch do you want to do first?", and one watch came to my mind right away. The watch that was on my wrist that moment, that's been so good to me since the first day I put it on; about a year ago, and most impressively, the watch I constantly boast about it never missing a single minute. With all the ranting I've done, to anyone that would listen, about how awesome the complications are and the overall usability of the watch, it was no way I could miss this opportunity to rave some more about the Carl F. Bucherer Patravi Calendar Watch. After all, it'd be selfish of me to have swam in all the compliments I've received on this watch and not return the favor.
Carl F. Bucherer Patravi Calendar Watch
The credit is due to the 42mm Carl F. Bucherer Patravi Calendar watch in stainless steel Ref. No. 00.10629.08.33.21. The watch features a black dial with a big date, day of the week, small seconds rotating disc and a week indicator. No, I never had an actual reason to ever use the week indicator but I loved that they were able to offer all these complications in a modern sized case and at such an extremely reasonable price point. It is also equipped with a CFB A1004 movement, which the brand is so proud of they gave the watch an exhibition case back. Looking into the exhibition back you'll first notice there is a complete view of the mechanics of the watch because unlike what you commonly see in exhibition back watches there isn't a rotor hovering over half of the beauty. The CFB A1004, like a majority of their movements, has a peripheral rotor which just circumvolves around the edge of the movement giving you a clear view of the mechanism while still efficiently winding the movement.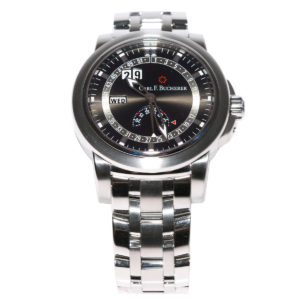 Conclusion
I can honestly say the Carl F. Bucherer Patravi Calendar Watch is one of my many favorite watches for many reasons. One reason I can't stress enough is how incredibly accurate the watch is and although it has about a 55-hour power reserve I was never without it that long. The versatility of the watch is another big reason, it always looked good with a suit & tie going to work and just as good with jeans and a t-shirt running errands. I think the complications on the dial and the distinctive links in the bracelet are what helps give the watch a sporty look but the smooth bezel and overall size of the watch provides a nice balance. While the CFB Patravi Calendar is a watch of substance, it wears very comfortably and I would often forget it was even on until the times when I would be constantly checking my wrist waiting to get off work. (Both my manager and the president of Bernie Robbins will read this so I'd also like to add that I constantly check my watch when I'm impatiently waiting and super eager to go into work as well.)
Whenever you get that urge to treat yourself to a new watch and you are one who appreciates reliability, versatility and overall craftsmanship of a timepiece, I encourage you to consider checking out the Carl F. Bucherer Patravi Calendar watch or at least look a little deeper into the world of Carl F. Bucherer and the other great watches they have to offer.
July, 29th 2016 Week 30.  (3:26pm) Still hasn't missed a minute.
Mitch Witcher A.J.P
Sales Professional
Bernie Robbins Marlton