Yellow diamonds, also known as canary diamonds, are a growing trend in bridal and weddings. If you're a vibrant bride-to-be with an interest in fashion, yellow diamond engagement rings will compliment you beautifully!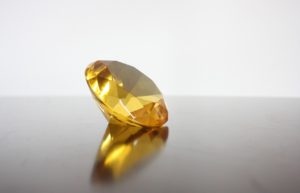 Quality and Features of Yellow Diamond Engagement Rings
Yellow is the color of sunlight, hope, joy and new beginnings. Yellow diamond engagement rings have become increasingly popular. These colorful alternatives to the typical white diamond still encompass traditional symbolism but they add a splash of joyful color and an element of fun. There may even be personal meaning wrapped up in the choice of a yellow diamond, such as coordinating with a birthstone or a favorite flower, or to symbolize a special memory involving the color yellow.
Yellow Diamond Engagement Rings: Shapes and Settings
There are many beautiful types of yellow diamonds engagements rings to choose from. The square cut is usually the preferred shape to enhance the color of yellow diamond engagement rings. Certain cuts and settings are designed to show off the perfection of a yellow diamond's color by strategically angling it to reflect the light. The size, cut and polish is chosen to maximize the intensity of the hue.
Clarity is of the upmost importance when it comes to diamonds. It is easier to identify clarity in yellow diamonds because most of them naturally have a high clarity grading. When buying a yellow diamond, your jeweler can be very helpful. Ask to see the gemological certificate Gemological Institute of America (GIA) to prove that the color is natural and that it meets high standards for cut clarity, color and carat.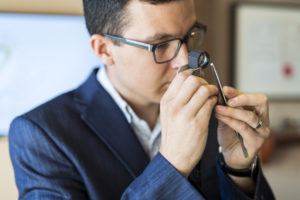 Special grading process for colored diamonds
Like all colored diamonds, yellow diamonds are graded by the GIA separately from colorless diamonds. They are categorized as "Fancy" diamonds and have a wide range of saturations, which determine the diamond's value.
Fancy Intense and Fancy Vivid are the most rare types of yellow diamonds. The color is pure with no traces of other colors such as brown, green or red. The beautiful color is naturally occurring due to the level of nitrogen present during the diamond's formation.
The hue is the dominant color. Value will depend on how strong the color is and whether the tone is light or dark. Even, well-distributed color across the diamond gives it the highest value.
Exquisite Styles of Yellow Diamond Engagement Rings
Yellow diamond engagement rings are a gorgeous alternative to the traditional white diamonds. The glint of yellow sunshine sparkling on your finger will be like a breath of fresh air at your wedding ceremony and for years to come. Yellow diamond engagement rings make an excellent choice for the not-so-typical modern bride.
There are a dozen different yellow diamond engagement rings designed by the artists at Bernie Robbins. A favorite is the Cushion Cut Yellow Diamond Engagement Ring. It features a cushion cut center stone with a diamond weight of 5.09 ct. Two half-moon shaped yellow diamonds rest at each side with a diamond weight of 0.76 ct. A prong set diamond frame and tapered shoulder feature another 1.33 ct. of diamonds.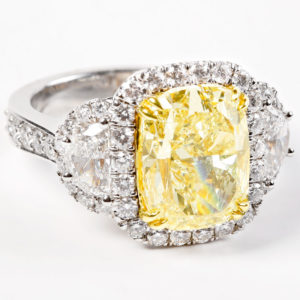 Another eye-catching selection is the Bella's Love® Cushion-Cut Edition by Katharine James. The diamond encrusted scalloped band really sets off the magnificent center jewel which is cut with rounded corners connecting to curved, embellished edges. The light dances around this yellow diamond engagement ring so beautifully, it attracts loads of compliments from admirers.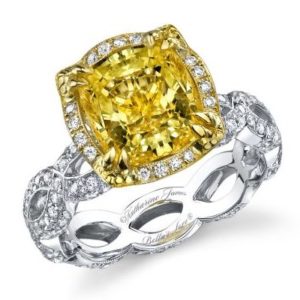 You can't go wrong with the this lovely Engagement Ring by Simon G. This ring features a cushion shaped double halo design set with .54 carats worth of white diamonds. The center stone is not included, but this setting is a perfect accompaniment to a center cut yellow diamond. You can select your favorite precious metal whether it's Platinum, Rose Gold, or 18k White or Yellow Gold.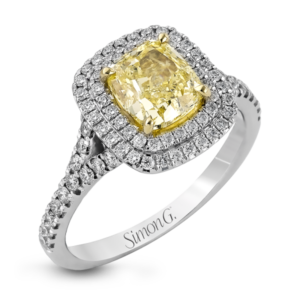 Famous Yellow Diamonds
One of the most famous yellow diamonds is the 137-carat Florentine Diamond that dates back to 1467. It was cut in the shape of a shield with 126 facets. Although the diamond passed through several hands and countries, including the crown jewels of Austria, it disappeared in 1918. Although many tales are told, no one knows the whereabouts of the Florentine Diamond except perhaps the one who holds it in his or her possession.
The Tiffany Yellow Diamond at 287.42 carats is the largest yellow diamond ever recorded. It was discovered in a diamond mine in South Africa in 1878 and purchased by Tiffany & Co. A 23-year-old diamond cutter expertly cut the stone into a cushion shape with 82 facets of which 8 are needle-like, giving it unparalleled brilliance and reducing the stone to 128.54 carats.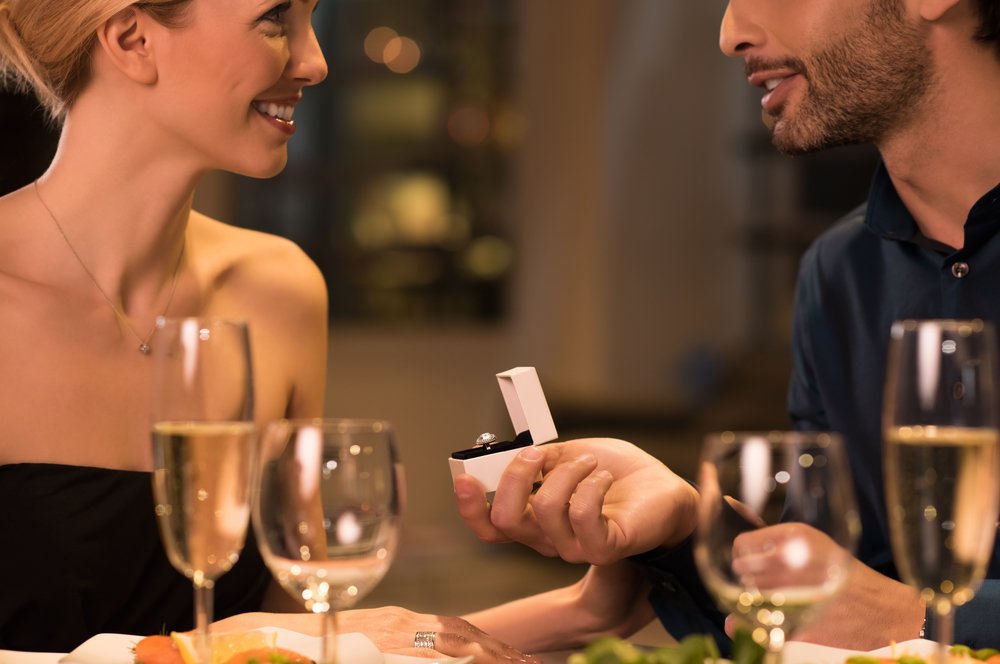 Say Yes to Yellow Diamond Engagement Rings
In the early 1900s, only 10% of engagements were sealed with a white diamond ring. Don't let this relatively new standard deter you from choosing a vibrant and colorful engagement ring. Yellow diamonds, with their rich amber color and glimmers of sunlight, are breathtaking. Dare to be different, and SAY YES to yellow diamond engagement rings!