A brief departure from links and leather into the realm of rubber.  
I always find myself steering clear of rubber straps, for reasons purely personal. Is it a vendetta? No. However, rubber typically doesn't hold the same visual allure as a carefully crafted leather or metal band, to me.  Rubber is also the least breathable material you can find, which doesn't make for comfortable wear on a warm day when perspiration is inevitable. But this week, I thought, "What the hell, why not?" I must admit, the 'blow' was softened by the fact that the watch that caught my eye for this piece was the Calibre de Cartier Diver.  For whatever reason, material goods that are, as the kids say, "all black everything" hits that switch in my brain that says "need"
Cartier
You've certainly heard of Cartier before.  It is simply one of the companies that, no matter what you do, you have come across some reference to it (especially in popular music and with royalty). Cartier rolls off the tongue similarly to bond declaring "shaken not stirred". Cartier began in Paris in 1847 when Louis-François Cartier founded the company after he took over the workshop of his predecessor. However, it wasn't until 1904, when Alberto Santos-Dumont (pictures below) complained to his friend Louis Cartier (Louis-François's grandson) of the unreliability and impracticality of using pocket watches while flying, that they dove into watch making. Thus, Cartier designed a flat wristwatch with a distinctive square bezel. The watch was praised by Santos & others, making Cartier's first men's wristwatch a solid reality. Cartier, throughout the years, has become synonymous with greatness and their watches are truly something to behold.
The Calibre de Cartier Diver
The Calibre de Cartier Diver, simply put, is an all-around great watch. I loved wearing it, looking at it, and, by extension, taking pictures of it. The Cartier diver stays true to the functional versatility of diver watches.  It works as both a dress watch and a daily driver. It is sleek and sophisticated enough to wear with a suit but sporty enough to pair with jeans and a t-shirt (thank you, rubber strap). The sapphire crystal, itself is beautiful. (Which is saying something since it is inherently meant to be seen-through and not seen). My main concern was the rubber strap and it looks surprisingly good.  I believe it even adds the bit of youth that the watch industry is in constant need of.  To combat my worries on breathability, I wore it a bit looser than I usually wear my watches.  The rubber saved me there too because it gripped the wrist unlike a loose leather or metal strap which would result in a constantly flopping face. The Diver utilizes "a precision unidirectional turning bezel coated with ADLC and time-control displays in Super-LumiNova®. Powered by a 1904 MC movement.." My wife was also particularly taken with it when she noticed the roman numerals glowing in the dark. In addition to glowing goodness, it is a powerfully accurate watch with water-resistance to 300 meters. (984 ft) Thus this watch will go well into the twilight (disphotic) zone and well beyond what the human body can withstand in terms of atmospheric pressure. How do I know this aside from using Google… In a past life, I used to work for a scuba diving company. All in all this is the watch you can wear out to the bar without attracting too much attention and similarly paired with the right suit will solidify you as a bonafide style guru.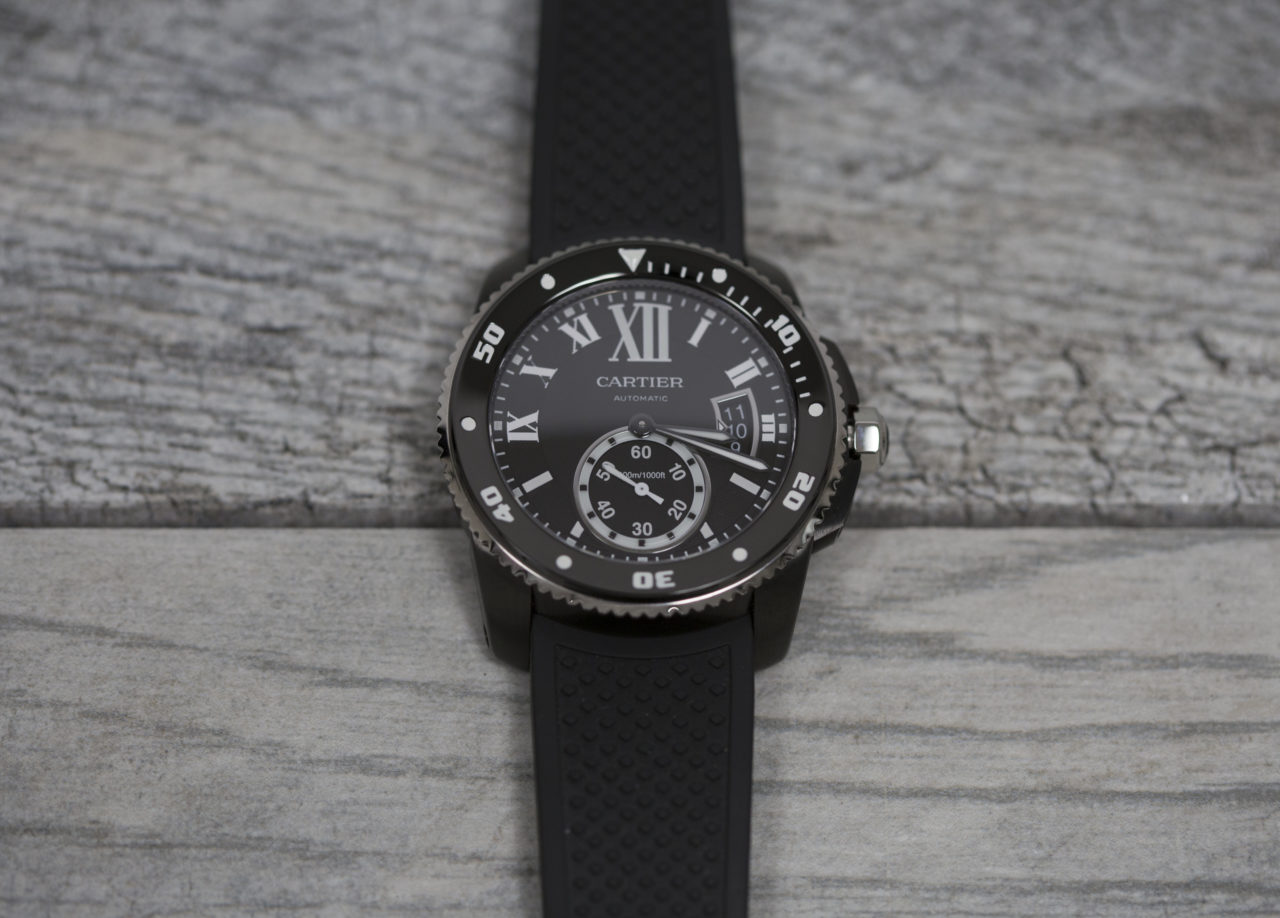 Like what you see? See more here
Stay fearless & until next time thanks for reading!
Peter Salerno
Lead Blogger