Baume et Mercier a Maison D' Horlogerie (House of Watchmaking) since 1830.
Baume et Mercier offers a collection of watches steeped in the classic french, "Je ne sais quois.*" Their designs are for the watch purist; thoughtful, classic styles combined with Swiss made goodness and a striking finish.
I've been eyeing up Baume's Clifton Complete Chronograph model: 10278 for a while now and decided to finally try it.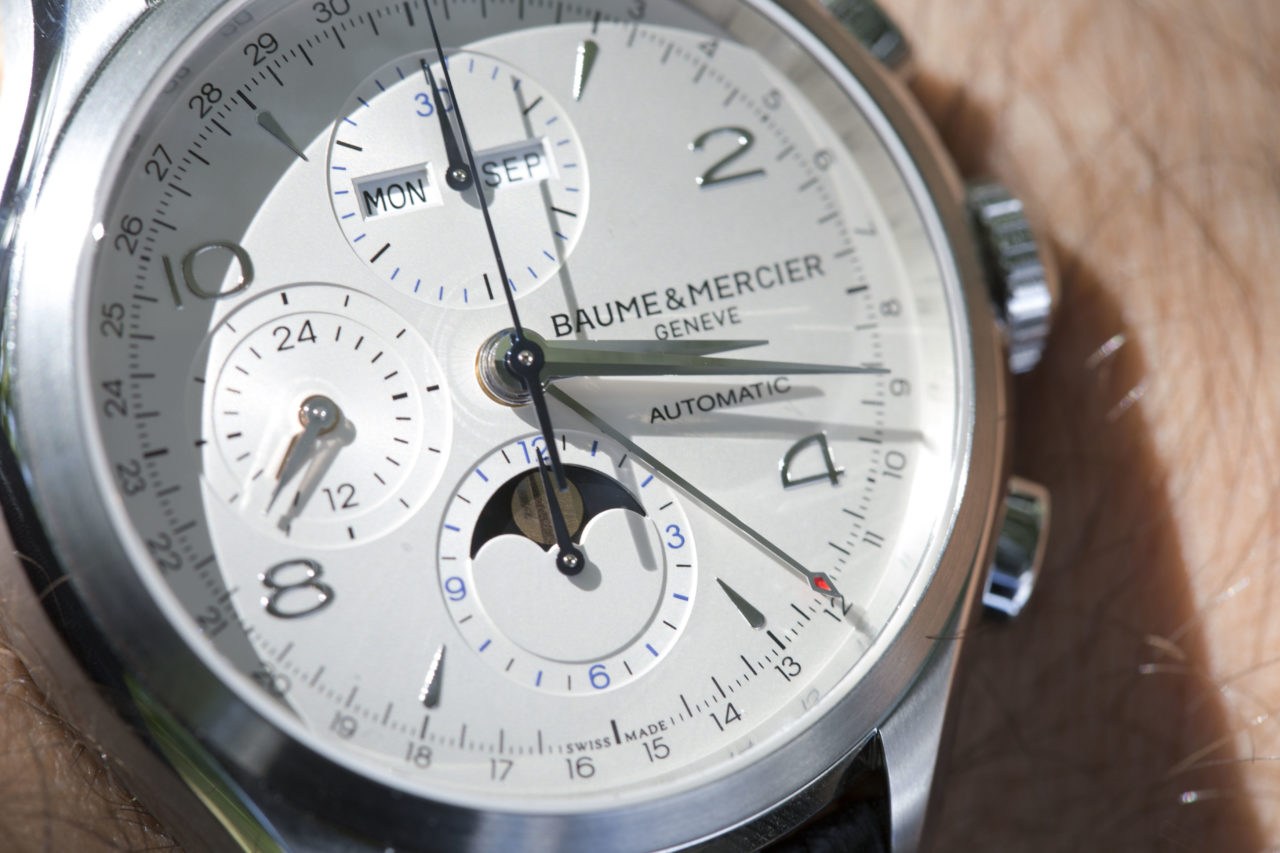 Clifton Complete Chronograph.
A watch for the enthusiast, indeed, with complications to boot. (For the non-watch-nerd: a complication is any function on a watch beyond merely telling time). The Baume et Mercier Clifton Complete Chronograph (10278) offers a Chronograph, Moon phase, 24h indicator, Central-hand date, Week day, & Month functions. It's housed in a steel case and measures 43mm.  Arabic numerals and rhodium-plated applique indexes as well as a set of blued steel hands, emphasize the elements of the chronograph's complications. It is equipped with a black alligator-leather styled strap with a triple-folding buckle that is highly ergonomic and fitted with security buttons.
The Clifton offers subtle, practical design elements that the casual wearer may take for granted but offer a more refined experience. Take the pushers, for instance, the sides have a polished finish but the top, where your fingers would touch, is brushed. Something seemingly inconsequential until you consider that the polished side will require polishing whereas brushed surfaces can maintain a cleaner look regardless of polishing.  Moreover, this watch is not a diver watch however, it is water resistant up to 50m. So if you do jump in the pool while proclaiming that you are a golden god* your watch will make it out alive.
If I haven't hinted at it before, I cannot get enough of the classical styling of watches like that of Patek Philippe, Jaeger leCoultre, and Baume et Mercier. I love a watch that is designed with the culture of horology in mind.  I am coming clean on this, I am bias towards watches by the likes of Baume! There I said it, however, I believe once you try one on you will be too.
Stay fearless & until next time thanks for reading!
Peter Salerno
Lead Blogger
Footnotes
* Je ne sais quois literally translates as "I don't know what."  Which implies that someone or something has an unexplainable yet attractive quality about them.
*A scene from "Almost famous" if you haven't seen it… Do it.