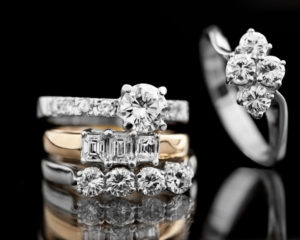 Beauty comes in all styles and shapes, and so do engagement rings. So many terms and types can be overwhelming to a newbie! This guide will help smooth out the process so you can decide on the best engagement ring styles for you.
The Best Engagement Ring Styles
Square Cut
As the name reveals, a square cut is when a diamond top has been shaped with four equal sides. A jeweler might also say the cut has a length-to-width ratio of 1, a square. Square cuts come in several styles of their own, each one with a craftsmanship and science that lends to a unique sparkle. The most popular square cuts are the Princess cut, the Emerald cut, and the Cushion cut.
Hearts on Fire Dream Offset Signature Engagement Ring
With a square cut like this one, you can get maximum light reflection by the way the diamond is cut and angled. Hearts On Fire does this the best!
Princess Cut
The Princess cut engagement ring style was crafted in the 1960s to give off the same kind of sparkle as the ever popular round brilliant cuts, which both have 58 facets. Face up, the princess cut is square (and sometimes shaped to be more rectangular) and it looks like an inverted pyramid from the side. In the lower part of the stone, you'll see three or four chevron cut shapes, giving a multitude of cross-like facets. Because this cut retains up to 80% of the rough diamond, it is cheaper than round cuts that only have about 50%. Be it the more affordable price or the convenient ability to hide flaws, the Princess cut is one of the most popular diamond shapes. The sharp edges make this cut more delicate and should be considered when evaluating the wearer's lifestyle. To protect the edges, get the diamond set in sturdy four-corner prongs like the ring below.
Gabriel & Co. Princess Cut Criss Cross
This crisscross band showcases a nice vintage twist to a modern Princess cut.
Emerald Cut
The Emerald cut engagement ring style was originally designed for emeralds some 300 years ago. Soon after, the Emerald cut was found to be a captivating cut for diamonds and other gemstones, too. The shape is more rectangular than the Princess cut with tapered (more secure) edges. The emerald cut is a "step" cut that creates wide flashes to contrast the dark planes within each step. This style creates an illusion of infinite mirrors. While distinct and gorgeous, the Emerald cut doesn't maximize brilliance or sparkle. With a limited range of glare, this style doesn't hide flaws well. You should insist on a minimum clarity grade of VS1-VS2 for any Emerald cut diamond. Since emerald cuts have a surface about 5% larger than round cuts, they give the overall appearance of a larger diamond.
Katharine James' Bella's Love® Emerald Cut Edition
If you're worried that an Emerald cut doesn't have enough sparkle, jazz it up with an especially decorative band and frame like this one by Katherine James.
Cushion Cut
Even with a rectangular shape, the cushion cut engagement ring style easily confused for a square cut, because of its rounded "pillow like" corners. There are two main looks of the cushion cut: chunky and crushed ice. The chunky look has clearly defined facet patterns. The crushed ice look has no distinct patterns, just a beautiful mess of sparkles. Both are brilliant cuts. However, the sparkle of cushion cuts is best viewed under flickering dim lights. This kind of brilliance makes a rainbow of color.  Many cushion cuts have large facets that are more revealing to imperfections, so be particular about the diamond clarity and color for this cut. With history over 300 years old that continues to evolve, the cushion cut attracts those seeking an antique feel with a modern presentation.
Jaffe 18k White Gold with Cushion Halo and Baguette and Pave Shoulders
Even with the halo and filigree on this ring, the cushion cut remains a focal point.
Vintage Rings
The term "vintage" is used widely and loosely among many products, rendering its meaning unclear. In terms of engagement ring styles, a vintage ring is a new ring that is styled to look like a ring from an older era. Victorian era rings (about 1837- 1900) are most noticed for rows of diamonds and delicate, ornate designs. Open embellishments and lacy designs came from the Edwardian era (about 1901- 1920). The Art Deco era (1921- 1935) brought playful geometric shapes and clean lines to ring designs.
Gabriel & Co. offers a wide selection of Vintage inspired engagement ring styles like this Diamond Straight Victorian Engagement Ring.
Colored Diamond Rings
As the demand for non-traditional engagement ring styles has risen in recent years, so has the increase of rings with gemstones like pink, blue, green, yellow, and black diamonds. All colored diamonds are intensified by trace elements within the structure of the diamond, some naturally treated and some not.
Colored diamond rings is very unexpectedly beautiful and unique. They are also more durable than other gemstones. A con to colored diamonds is that you're more limited in matching it to a setting and band. The current trend for yellow diamonds is to be mounted in white gold or platinum and surround it with white diamonds. An example of this can be seen in the Bernie Robbins Oval Shape Yellow Diamond Halo Engagement Ring.
Simple and Traditional Styles
Traditional engagement ring styles are associated with classic cuts that never go out of style like this ArtCarved Constance. Simple styles are often placed in that category, too, as the theme 'less is more' has survived countless eras in fashion apparel and luxury jewelry. Simple doesn't always mean small diamonds, either. Big diamonds showcase best on a simple setting and band. Read more about the best traditional engagement ring styles to find out if classic is the look you're going for.
A simple setting and high quality diamond like this yellow gold Hearts on Fire Insignia Solitaire Engagement Ring is a popular choice for a minimalist bride. The only downside to choosing a simple, traditional engagement ring might be that your ring lacks detail and could look standard, and similar to other people's.'
Non Traditional and Unique Styles
What is purely traditional and unique is all a question of taste and opinion. Today, traditional engagement rings have white diamonds whereas non-traditional rings seem to be anything but! However, before diamonds were available towards the end of the Victorian era, traditional engagement rings had other gemstones like pearl, amethyst, and ruby. Other gemstones are cheaper than diamonds, but they are also usually softer and damage more easily with everyday wear.
Unique engagement ring styles are one-of-a-kind and difficult to replicate like the Hearts on Fire Intertwining Regal Diamond Engagement Ring.
Another pro to these non-diamond and non-traditional best engagement ring styles is that the odds of your neighbor having the same ring are very slim. However, a con to having an engagement ring as unique as this one, because it's so non-traditional, is that your engagement ring could be mistaken for a fashion ring instead of a symbolic commitment to marriage. Maybe that bothers you, maybe not. The best engagement ring styles that are nontraditional could be the perfect match for an exceptionally unique bride-to-be.
Shop your favorite Best Engagement Ring Styles
Each of our best engagement ring styles are different but are beautiful in their own right. Luxury jewelry designers take care to create well-made, lasting designs, so we won't tell you to avoid a specific style. Whichever ring style you prefer, just make sure it's made one of the better engagement ring designers. It will be beautifully crafted and suitable for any bride according to her style and taste.