Calling all new age, modern brides-to-be! If you've found your man and want to make it official, it's time to start looking at rings. You KNOW what you like, but you've got to look through modern engagement rings for styles that fit you best!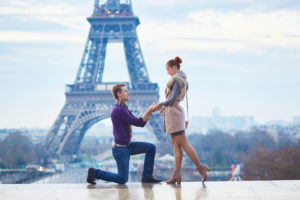 The Search for Modern Engagement Rings
So much is changing in the world today…it's impossible to keep track of trends and technology. The one thing you're sure of this: You know what you like, and you know you're in love. You're happy to be with such an amazing guy, and the next step as a couple is tying the knot.
Who's picking out the ring? Whether it's him alone or both of you together, make sure that he knows what you're hoping for in a ring. Classic engagement rings of yesteryear are pretty, but they don't really speak to who YOU are. Modern brides like you are smart, strong, and self-aware. From the ring to the wedding, it's important to be true to yourself in all of the details. Tradition doesn't matter as much as finding something relevant that's perfect for you!
Favorite Styles of modern engagement rings
Modern engagement ring designs are fluid, artsy, and dazzling. Distinctive details are the difference between a traditional engagement ring and modern bride's piece of art. Find a ring style that represents your individuality in a beautiful and elegant way.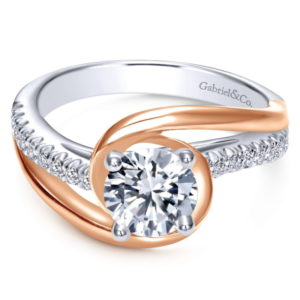 1. Swirl
Feminine, gorgeous, and eye-catching, the swirl is a modern style featuring a central gemstone surrounded by metal. Typically sold as a set, the wedding band provides an incredible fit for the distinctive, dreamy shape of the engagement ring. An artistic woman who likes to be different might be drawn to this brilliant ring. See this modern engagement ring by Gabriel & Co. – Diamond Pave Bypass Round Engagement Ring.
2. Halo
This ethereal style features a centrally placed gemstone bound by a 'halo' of tiny diamonds to enhance the center stone. This engagement ring style is perfect for a fashion-forward woman. Halo rings are set to become the "trending classic". Check out this gorgeous Double Halo Engagement Ring by Michael M. The "pave" band style is even on trend- a style where cushion cut diamonds are tightly stacked up in a row to cover a flat area.

3. Cathedral
The central diamond in the cathedral setting is steadfastly nested between bands, which extend from every side. Each band is angled up to meet at the center of the piece. This engagement ring style offers maximum protection for the diamond making it an excellent choice for a woman who's always on the go. Modern women work hard and do a lot with their hands, so they do not want a fragile ring. If you don't want to worry about your ring get bumped around or losing a stone, look for some cathedral-style engagement rings to see what you think!
Colorful stones on engagement rings
Most modern engagement rings are not only inspired by creative styles, but also by vibrant colors. When it comes to bridal these days, white is only an option among many other colors. Country singer Kelly Clarkson received a flawless 5-carat yellow engagement ring and this ring is the talk of the town. From your dress to the jewels, you can jazz up your wedding with some color! To go a step further, modern engagement rings are not limited to diamonds anymore. Consider using other precious gemstones as a center stone or to use as an accent color.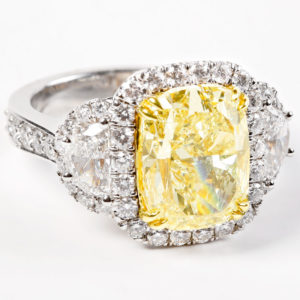 1. Yellow Diamond Engagement Rings
Yellow is an unexpected color, but when it appears in high fashion it always steals the show! Remember Kate Hudson in that darling yellow gown she wore in her 2003 hit movie? Everyone can recognize Belle's yellow ballroom gown from The Beauty and Beast! Yellow diamond engagement rings are a great choice for brides who want something young, fun and full of life. Yellow diamonds also reflect the light beautifully.
2. Sapphire Rings for Royalty
Sapphires are deep blue precious gemstones, which are said to be even more rare than diamonds- and they're also less expensive because the overall demand is lower. The most famous engagement ring in the world- previously worn by Princess Diana and now on the finger of Kate Middleton, Duchess of Cambridge- is a large oval sapphire with a halo of white diamonds surrounding it. Blue is a color often associated with romance, and a sapphire ring will fits with the popular bridal saying "something old, something new, something borrowed and something blue!"
3. Amethyst makes everyday feel like Valentine's Day
A well-cut amethyst will be a fresh look for a modern engagement ring centerpiece. This beautiful purple gemstone is also the birthstone assigned to February babies, born around Valentine's Day. At seven on the Mohs measurement scale, amethysts are not as hard as diamonds, but they are plenty durable. Pair the lavender colored gemstone with rose gold or platinum for a soft and romantic design. Match up an amethyst with other bright colors for something really fun and different. You may be surprised how much you'll love having a colorful engagement ring.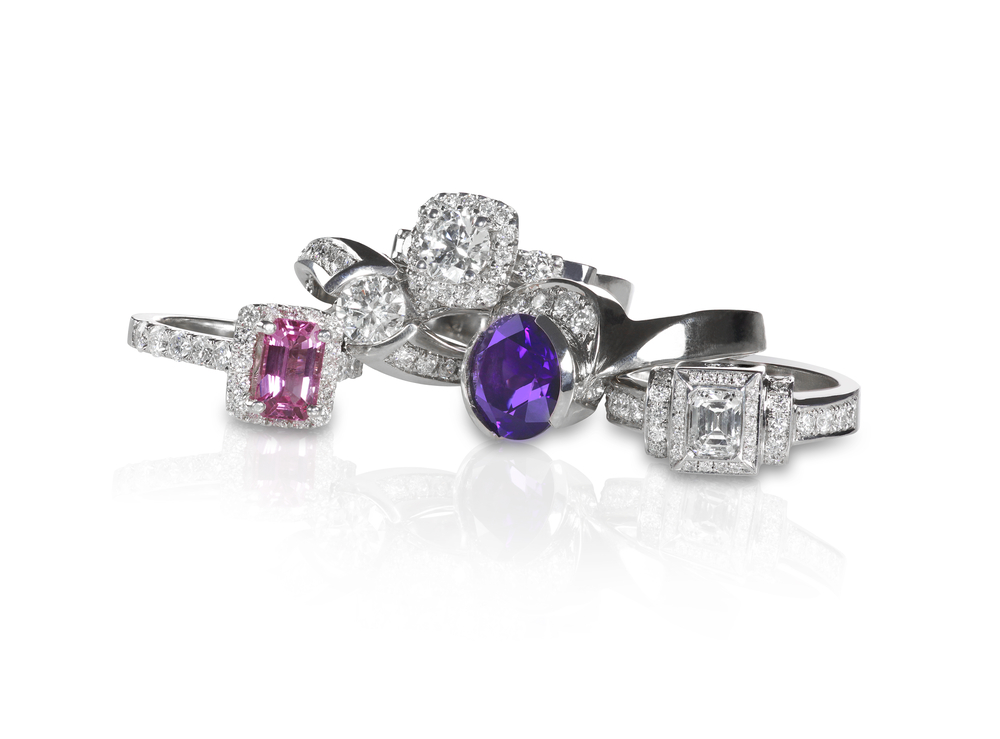 Modern rings for the modern bride
Don't feel obligated to follow the traditional route to becoming a bride. You're different and your engagement ring should be different, too. Say goodbye to typical white gold and solitaire diamonds. Embrace the unique styles and bright colors found in modern engagement rings!