Pave setting engagement ring, valued for their look of unbroken sparkle, due to multiple gems being set tightly against one another. But not all pave settings are created equal. Learn what to look for in a pave setting on your potential ring before you make your final choice.
What Makes a Pave Setting Engagement Ring Different?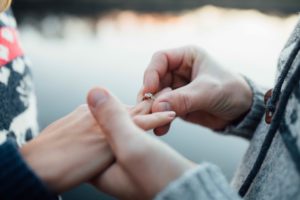 Pave settings first became hugely popular in the early 1900's, and they've remained on the stage ever since. The word (pronounced pay-vee) comes from the French pavé, which literally means "paved" or "cobbled". The concept behind a pave setting engagement ring is the band is paved with precious stones in the same way a French countryside road is cobbled, i.e. there are no gaps, cracks, or crevices, just one flowing, uninterrupted row of stones.
The technique of creating a pave setting in a piece of jewelry is painstaking and so very time-consuming. The exact dimensions of each gem and its precise spot on the band must be carefully measured out. A hole for each gem is meticulously drilled into the gold or platinum according to the dimensions of the individual gem. The gem is then positioned in the hole and held in place by barely visible, diminutive beads of metal. The finished result looks like a smooth, even path going around the whole shank.
A pave set engagement ring will appear as a band of solid, pure gemstones. Hence the everlasting fashion of an engagement ring setting with avid diamond lovers.
Recently, celebs have been spotted with pave setting engagement rings, including style ladies like Natalie Portman, Katherine Heigl, and Blake Lively.
Tips for Choosing Perfect Pave Setting Engagement Rings
1. Check for broken stones.
A pave setting allows no room for error. If a jeweler failed to measure just one gem perfectly by fractions of a millimeter, the pressure of that gem pressing against the others may cause one or several to slightly fracture. Often, with all the sparkle and beauty, the one or two fractured specimens get overlooked in a sale. Be careful to inspect each and every gem, under a magnifying glass if possible, and ensure that they are whole and intact.
2. Make sure stones are aligned straight and flat.
The exact measurements involved in pave settings refer to the height and depth of each stone also, not just its sides. A good quality pave setting is smooth and straight, not bumpy and overlapping. No stone should be higher or "stick out" more than the others. Envision a paved stone road; the road would be dangerous to stroll if one stone protruded up above the others. The gems should be uniform, lie flat and straight, and to appear to be identical to one another.
3. Verify that all prongs are discreet and hidden.
The tiny beading prongs that hold the gems in their holes should be just that: absolutely tiny. If they are too high, they'll be easy damaged, risking the loss of a precious stone. Make sure the prongs don't look like they could snag onto anything or get bent if you accidently knocked your hand on something.
What Does a Pave Set Engagement Ring Look Like?
Here are a few examples of stunning pave set engagement rings to give you an idea of what to look for. Pave stones can be placed around the band itself (its most common usage), or around the bottom of the centerpiece crown, or in a halo encircling the main gem.
The Michael M. Handcrafted Pave and U-Set Engagement Ring features all three. The split shank displays four pave set rows of diamonds. The center diamond is haloed with a circle of pave set smaller diamonds both around and underneath it. Altogether, you have six "roads" paved with diamond stones. This ring would be the obvious choice for a girl who loves bling!
The A. Jaffe White Gold Pave Engagement Ring is an excellent example of the pave setting placed just underneath the crown. Exquisitely handcrafted, the extra diamonds make the center gem "pop out" and render the gold band underneath even smoother and glossier.
The Michael M. Modern Engagement Ring is an example of a half-pave setting. This means that only a part of the shank is diamond-paved, exposing the precious metal underneath for the rest of the ring. Two advantages of half-paved settings are: some individuals find them more comfortable around the inside of the finger, and they are easier to resize.
The Verragio Paradiso Engagement Ring presents us with intricate lace work and pattern designs done with pave settings around the edge of the shank as well as underneath the crown. This type of ring harks back to the good old days when jewelry was intricately crafted with as much design as possible. The result is timeless beauty.
The Hearts On Fire Illustrious Halo Engagement Ring is an illustration of a pave halo setting in a single circle around the main stone. The aim of a halo setting is to make the center jewel appear as a single large jewel by adding a path of diamonds around it, increasing the reflection of light.
Get Covered in Diamonds with a Pave Setting Engagement Ring!
No matter which style or design you settle on for the big moment, we wish you joy and pleasure in your search. Learn all you can about the different possibilities out there, and read our helpful tips on how to spot the perfect one for you. If you love the look of a pave setting engagement ring, choose the one that fits you the best and get yourself covered in diamonds!