The primary aim of Roberto Coin is to honor the elegance and beauty of the female spirit. A pair of earrings is an effortless and intimate accessory. Choose a pair of Roberto Coin earrings to match your taste and represent your inner beauty.
Roberto Coin Earrings
The legendary jewelry designer Roberto Coin is an inspiration to all. His story reveals his bravery and determination as this Italian artist left his career as a hotel manager to pursue his dream of luxury and design. Roberto uses a mixture of fine metals and gems to showcase the romanticism of every woman who wears Roberto Coin earrings.
Styles of Roberto Coin Earrings
Roberto Coin earrings range in styles specifically designed for every type of woman, from classic to modern. If it's a gold or diamond hoop earring that you're after that can be worn for dress up or dress down occasions, Roberto Coin offers a wide selection of sizes and styles.
Roberto Coin Hoop Earrings
From the Perfect Gold Hoop Collection, these Oval Hoop Earrings available in white or yellow gold and ranging from petite hoop to large hoop sizes make a perfect pair of earrings for the classic beauty. The Roberto Coin trademark gem is easily seen in the large oval hoop earrings pictured below.
Like a large hoop to show your big and bold confidence, try the XXLarge Inside Outside Diamond Hoop Earring from the Perfect Diamond Hoops Collection. Here, the round brilliant cut diamonds show complete symmetry as they are on both sides of the hoop. This style is also offered in a number of smaller sizes.
Show a bit of your dark side with these Roberto Coin Twisted Hoop Earrings with Black Diamonds.
Don't want to go that dark? Roberto Coin also has a Brown Diamond Hoop Earring from the Fantasia Collection perfect for autumn when you pull out all your earthy tones from your wardrobe.
Share the "Don't judge a hoop by its cover" message with this pair of earrings from the Golden Gate Collection. A simple style at first glance showing a chunky yellow gold hoop and teardrop shaped diamond, this pair of hoop earrings features details much like a maze on the inside.
Roberto Coin Drop Earrings
For a woman ready to experiment outside of hoops but still wants something dangly, Roberto Coin has earring styles with modern art deco drop shapes featuring precious gems beyond diamonds like mother of pearl, black jade, and turquoise. Here's a pair of Roberto Coin earrings from the Tiny Treasures collection that showcases diamonds, sapphire, and mother of pearl, three gorgeous stones in one fine treasure.
Roberto Coin Stud Earrings
Roberto Coin earrings also come in a few stud styles like these yellow gold heart stud earrings and sun stud diamond earrings.
Who's Wearing Roberto Coin
Celebrity stylists are putting Roberto Coin jewelry on their go-to list for red carpet accessorizing. Cast members of Netflix's popular series Orange is the New Black have proudly worn several pieces from Roberto Coin's collection to galas, openings, and charity events over the last year. One example is Laverne Cox who flaunted a pair of Roberto Coin earrings- the Snake Drop style with diamonds.
Even the First Lady Michelle Obama, an icon of feminine strength and class for the last eight years, was featured on an October cover of T, New York Times Style Magazine, wearing a pair of Roberto Coin earrings in gold.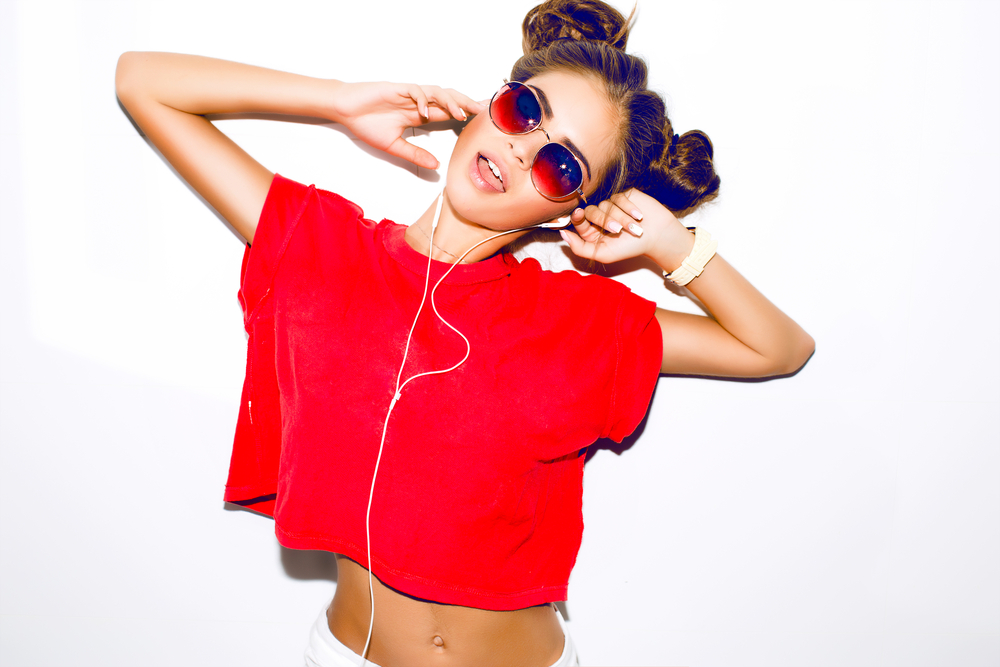 The Hidden Gem
While it is a luxury to wear such a fine brand as the A-list celebs wear, perhaps the most exquisite part about owning a Roberto Coin piece is discovering the hidden gem. Since 1996, Roberto Coin has added a small red ruby to his signature on every piece of jewelry. The additional gemstone enhances the fineness, uniqueness, and value of the piece. You'll know you have a true pair of Roberto Coin earrings when you find the hidden rubies!